Business park lands in Georgina
The Town of Georgina has designated more than 500 acres of business park lands permitted for a wide range of industrial uses, including office space, at the northeast corner of Woodbine Avenue and Glenwoods Avenue in Keswick.
Panattoni Development Company will bring 200 acres of industrial development to Georgina
Panattoni Development Company has acquired 200 acres of zoned industrial land in Keswick that can be readied for immediate development. The site is located three kilometres from Highway 404 in an area that has seen considerable growth. Read the media release.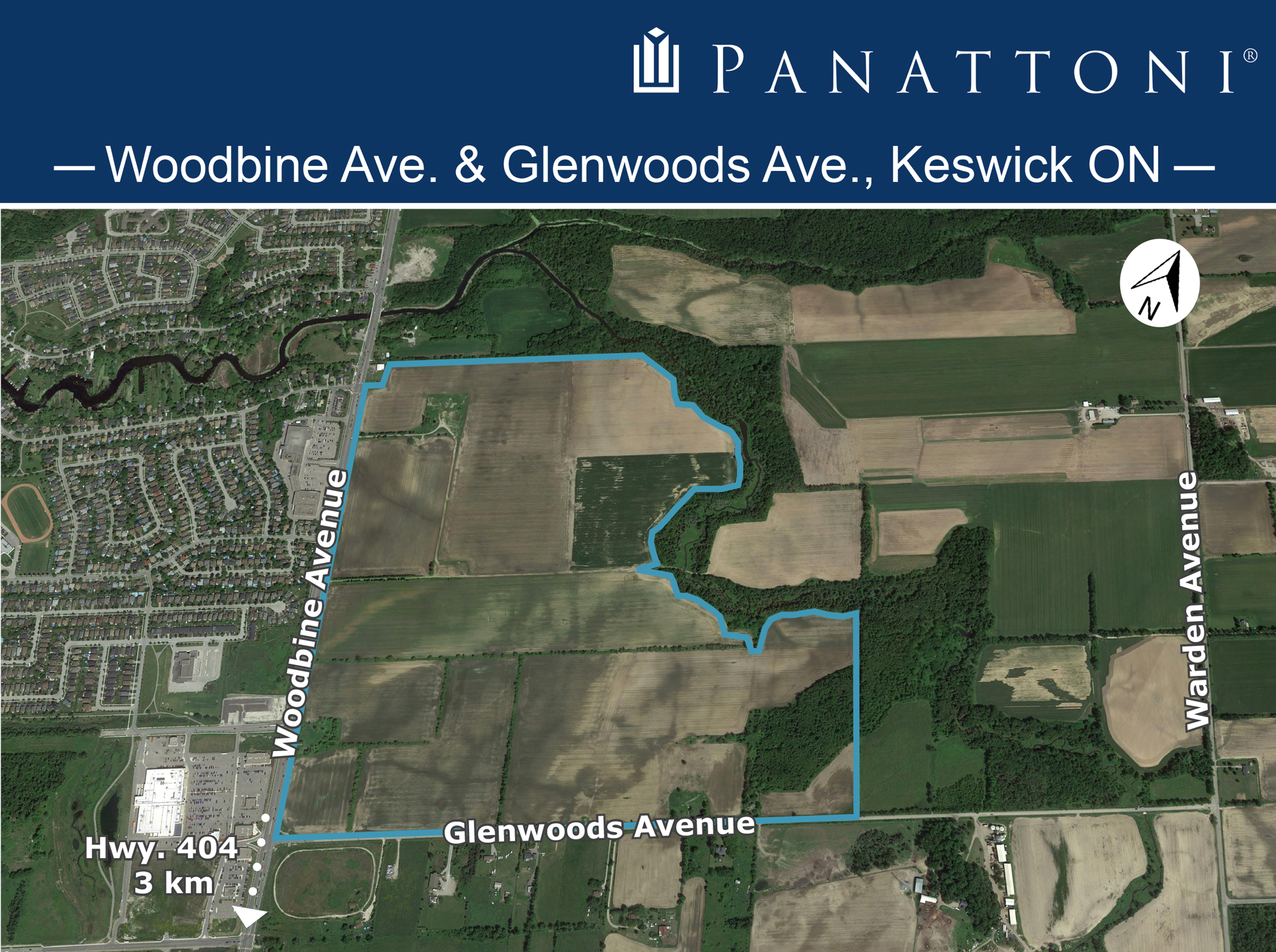 The site is one of the largest available development opportunities within an ideal distance of Toronto.
A rare 200-acre site that can accommodate buildings in excess of 1 M sq. ft.
Zoned for employment uses and BP-3 zone permits outside storage.
Approximately 3 km from Hwy. 404/Woodbine Ave. interchange.
Abundant areas for trailer parking and/or employee parking.
Timing to market and flexibility in size set this site apart.
Georgina is within a one-hour drive on Highway 404 to the Greater Toronto Area's urban core. The southend is situated only 35 minutes to Highway 401 and 40 minutes to Toronto International Airport.
An investment-ready program is available to investors to ensure a smooth and timely development process. The Town also offers financial incentives through grants and a development fee rebate.
30 per cent projected population increase over the next ten years (71,000 by 2031).
A large percentage of educated and skilled workers currently commute within one hour of the municipality.
Infrastructure improvements
YorkNet dark fibre network access for broadband internet connectivity (direct access at site installed).
Glenwoods Avenue to be improved and realigned.
The Bradford Bypass, now approved by the Province, will connect Hwy. 400 to Hwy. 404.
Proposed Hwy. 404 extension to bring the highway north, passing along the eastern boundary of the site and joining up with highway 12 (timing TBD).
Proposed future Hwy. 404 full cloverleaf interchange directly at the site.
York Region has been identified through provincial legislature and planning as a population growth area through 2031.
The site will benefit from the exponential projected growth of neighbouring municipalities, particularly East Gwillimbury, which is expected to grow by +/-189 per cent by 2031 (26,900 to 77,800).
The site's proximity to major residential centers of Markham and Vaughan (<30 mins) will be of great benefit for accessing labour and customers.
Within a 35 minute drive of the site, there is a total population of 609,250 people and a labour force of 500,200 with a participation rate of 65.40 per cent and a 2018 unemployment rate of 5.5 per cent. 
Within a 60 km radius, there is a total population of over 4.5 million people, positioning the site to serve the GTA.
The average age of York Region residents is 39.9 years, lower than the national average.
70 per cent of York Region residents have a post-secondary degree, with 25 per cent of residents have obtained a college degree or trade specialization, and 45 per cent a university degree.
In 2016, the first phase of the Business Park, comprised of 266 acres, was approved. The plan consists of (14) industrial blocks, two stormwater management ponds, a pumping station and a greenlands block with associated buffers along the Maskinonge River. The zoning by-law to permit a range of office, industrial and ancillary commercial uses was also approved in 2016.
---
In 2018, Council approved an application received from Glenwoods Gateway Investments Inc., owner of the lands located at the northeast corner of Glenwoods Avenue and Woodbine Avenue, to begin earthworks on the property. This is the first step to prepare the site for the receipt of fill and grading to ensure the proper drainage of lands.
Report DS-2018-0093
(1.41 MB)
outlines the details of the Earthwork Agreement.
For more information on the site, inquiries can be sent to:
---
Panattoni Development Company, Inc.
is an industry-leading, privately held commercial real estate development company. With over 25 offices in Canada, the United States and Europe, they are responsible for over 320 million square feet of development, with a specialization in industrial speculative and build-to-suit projects.
Panattoni Canada has offices located in Toronto, Ontario and Edmonton, Alberta and their depth of experience spans throughout the central and western areas of Canada. With projects completed throughout the Greater Toronto Hamilton Area (GTHA), Calgary and Edmonton, their expertise in the local Canadian markets in which they operate, is unsurpassed.
Winners of the 2014, 2015 and 2018 NAIOP Industrial Development of the Year awards and the 2016 and 2018 NAIOP Industrial Lease of the Year awards - Panattoni is uniquely qualified and experienced having developed industrial facilities for some of Canada's most sophisticated users.
Economic Development Quick Links
Do you have business support questions? Email our team at ed@georgina.ca or call 905-476-4301.
Subscribe to our bi-weekly Economic Development and Tourism Newsletter.