With support through the Canada 150 Community Infrastructure Program/Avec l'appui du Programme d'infrastructure communautaire de Canada 150.
The Town of Georgina received funding through the Canada 150 Infrastructure Program for two exciting infrastructure projects:
Pefferlaw Ice Pad Roof 
De La Salle Accessibility Improvements to Waterfront Park/Beach​
De La Salle Accessibility Improvements To Waterfront Park/Beach
Construction Update - August 2018
Upgraded lighting has been installed to improve visibility on the rink surface and under the picnic shelter area.
Perimeter architectural lighting is in place for access to and from the facility.
All of the lighting is controlled by simple, push-button controller and timers.
The picnic shelter area has been expanded for events such as the PAR Picnic and includes improved lighting and electrical receptacles to address basic electrical power needs.
Improved maintenance access, including new concrete ramps at the mechanical building (for ice resurfacer) and south double doors (for added service access) are in place.
Asphalt aprons are now in place.  New benches will be installed for players/skaters in time for upcoming the ice season.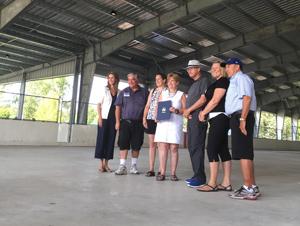 Construction Update - May 2018
The project includes the following components:
Washroom upgrades, including accessible fixtures, stalls, doors, lighting, change tables and decking
Accessible trails to connect parking with playground, washrooms, pay/display machine, footwash/shower station, and other existing park facilities, including Lake Drive pedestrian crossing
Structural ramp to permit accessibility to the De La Salle beachfront from Lake Drive, including viewing platforms, stairs and landings
Accessible, seasonal MobiMat, which is a portable, hard-surfaced, roll-out mat, 6.5ft wide and made of recycled plastic bottles, to provide accessibility from the bottom of the ramp to the water's edge for bathers (including those requiring wheelchairs and similar aids)
Accessible footwash/shower station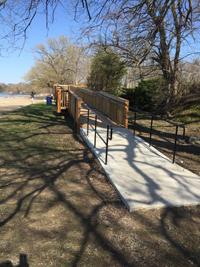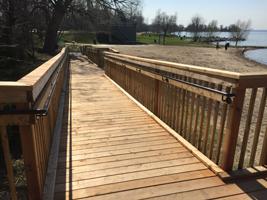 Mobi-Mat
The Mobi-Mat is a universally accessible means of getting down to the water. In partnership with the Georgina Accessibility Advisory Committee (GAAC) the Town was able to secure funding for this through the Canada 150 Community Infrastructure Program.  The Mobi-Mat will be reinstalled in Spring 2018.
Construction Update - May 2018
The PIP Roof Project was implemented to provide the existing facility with protection from snow and rain events and sun glare, thus reducing maintenance during the ice-making season, potentially extending the winter season for ice users, and providing relief from summer sun and rain showers.  
The PIP Roof project includes:
Upgraded lighting has been installed to improve visibility on the rink surface and under the picnic shelter area  
Perimeter architectural lighting is in place for access to and from the facility  
All of the lighting is controlled by simple, push-button controller and timers
The picnic shelter area has been expanded for events such as the PAR Picnic, and includes improved lighting and electrical receptacles to address basic electrical power needs 
Improved maintenance access, including new concrete ramps at the mechanical building (for ice resurfacer) and south double doors (for added service access) are in place
Asphalt aprons will be completed once the plants open this Spring
New benches are to be installed for players/skaters