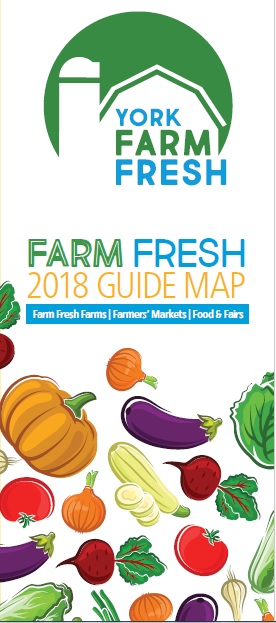 Georgina is excited to announce that the York Farm Fresh 2018 Guide Map is now available. The Town of Georgina has once again partnered with neighboring municipalities, York Region and The York Farm Fresh Association in the production and distribution of the Farm Fresh promotional map. This map lists 30 Farms, 11 Farmers' Markets and 18 Food and Fair events. Out of these 12 listings are found in Georgina consisting of 6 Farm Fresh Venues, 5 Food Events, and 1 Farmers' Market. Its purpose is to serve as a guide to uncover local farm fresh products within York Region. Maps are available at member farms, farmers' markets and municipal offices. A digital version can be downloaded Here.  The passport is available in the York Farm Fresh 2018 Guide Map or downloadable online at: https://www.yorkfarmfresh.com/passport 
Some of the highlights and features of this initiative include: 
Larger brochure format to replace z-card from previous years.
New this year included on the map is a passport which gives consumers the opportunity to collect stamps from the farms listed on the map and in return have a chance to win a Thanksgiving Harvest Basket ($250 Value).