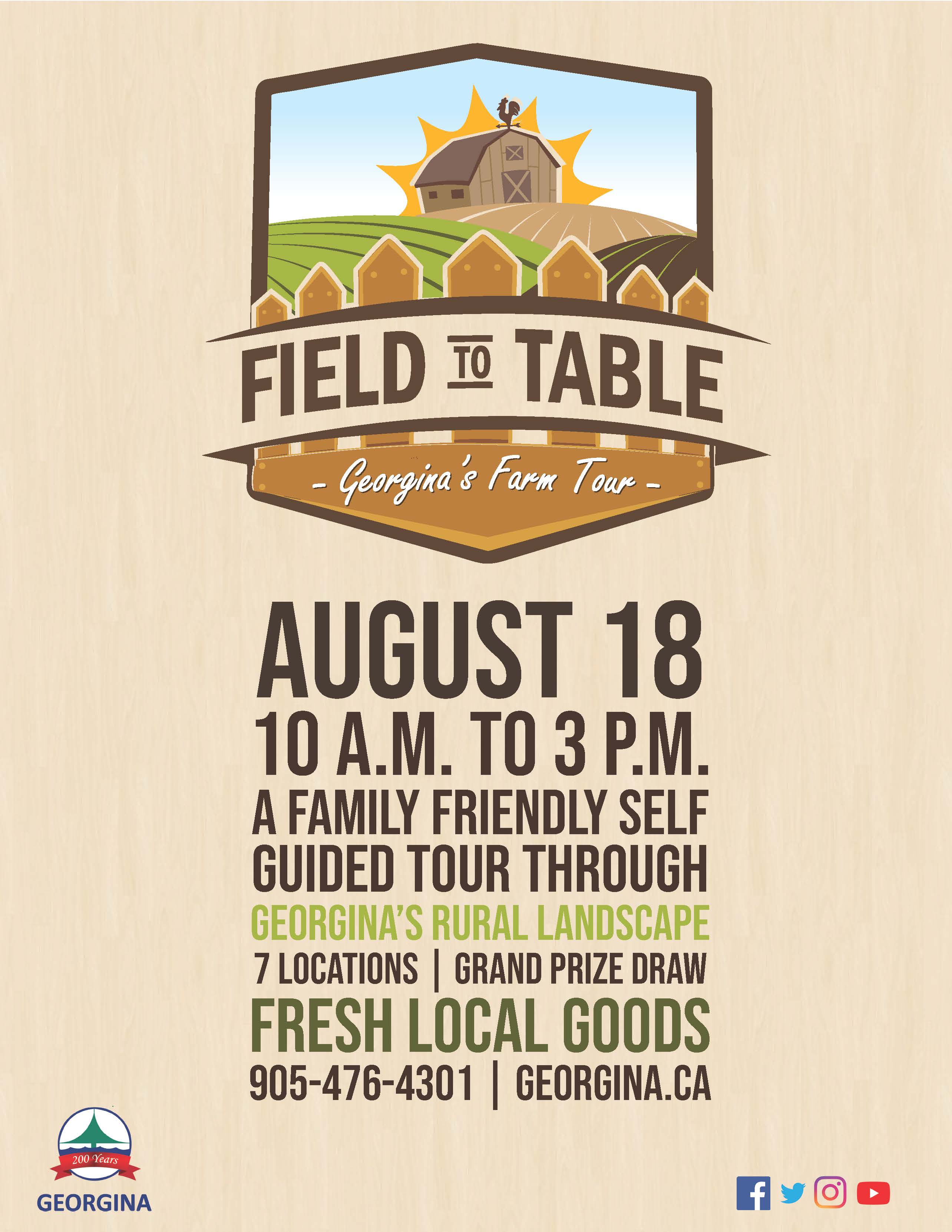 Georgina's Field to Table Event
Join the Town of Georgina on August 18th in celebrating 200 years of agriculture by visiting some of our biggest and most diverse farms! The day will consist of self-guided tours to the participating farms between the hours of 10:00am and 3:00pm where visitors can enjoy tours, samples and educational experiences at each location. The day will present residents and tourists interested in Georgina's rich agricultural history with a unique opportunity to learn more about the food we consume each and every day… from the fields, all the way to our dinner tables. Tours will be running every hour starting at 10:00am and ending at 2:00pm at each location. Participating farms and featured activities include:
Cloverhill Flowers
Cloverhill Flowers, founded in early 2016, is a small speciality cut flower farm in Georgina that uses chemical-free, sustainable farming methods.
Flower Garden Tour
Educational Workshops
Edible Flower Samples
Flower Sale
Clearwater Farm
ClearWater demonstrates how growing healthy food is also good for the surrounding land, water, local economy and community fabric. The farm also showcases water-wise and nature-friendly practices and technologies to help others discover eco-friendly choices.
Seasonal Produce Samples
Walking Tour of the Farm
Kids Activities
Sustainable Farming Practices Workshop
Elmgrove Organic Collective
Cultivating Opportunity
Cultivating Opportunities is a social enterprise that co-creates meaningful work opportunities in organic farming with individuals looking to re-connect with themselves and nature.
The Cutting Veg
The Cutting Veg aims to encourage lifestyles that are healthy for families and the planet by providing local organic produce through farmers markets in the GTA, as well as supplying box-program providers, and Community Supported Agriculture programs. 
Elmgrove Farm
Address: 535 Catering Road, Sutton West, Ontario 
Phone Number: 905-722-9582
Owned by the Pape family, Elmgrove grows a large variety of seasonal vegetables and offers fresh eggs from free range chickens year round.
Frall Foods
The mission of Frall Foods is to distribute locally grown Ontario produce to families and individuals around the GTA, while supporting our local farmers and offering excellent customer service
Farm Tours & Workshops
Farmers' Market
Livestock Display
Bee Colonies
Homestead Orchards
Visit one of Georgina's longest operating pick-your-own produce farms with a family friendly environment and a fresh bakery on site. 
Free Wagon Tours
Fresh Produce Samples
Kids Play Area
Tasty Baked Goods
Holtrop Farm
Owned by the Holtrop family, the farm offers fresh corn, tomatoes, pumpkins and squash and is open from August to mid-November.
Tractor and Farm Machinery Display
Fresh Produce Sale
Corn and Tomato Workshops
Hiveshare
The Hiveshare program was created for people to enjoy unique, local, unpasteurized, artisanal honey from the nectar of the vast variety of plant life in the gardens, fields and wildflowers found here in our area
Live Bee Colony
Fresh Honey Samples
Honey Products Sales
Pollinator Workshops
Hutchings Farm
Located in Pefferlaw, Hutchings Farm offers a variety of products such as eggs, chicken, turkey, lamb and seasonal vegetables. You can also learn to make salad jars and take yoga with goats.
Goats and Sheep in Pasture
Fresh Seasonal Produce Samples
Farm Gate Sale
Tours and Workshops 
Victorian Farm
Victorian farm takes pride in old fashioned farming. Purchase free range chicken eggs year round at their farm gate sale. 
Ponies and Horses
Old Fashioned Farming Workshops
Farm Gate Sale & Discounts
If you would like to find out more, please contact David Townshend at dtownshend@georgina.ca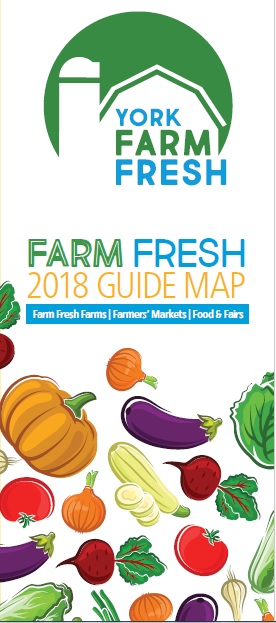 Georgina is excited to announce that the York Farm Fresh 2018 Guide Map is now available. The Town of Georgina has once again partnered with neighboring municipalities, York Region and The York Farm Fresh Association in the production and distribution of the Farm Fresh promotional map. This map lists 30 Farms, 11 Farmers' Markets and 18 Food and Fair events. Out of these 12 listings are found in Georgina consisting of 6 Farm Fresh Venues, 5 Food Events, and 1 Farmers' Market. Its purpose is to serve as a guide to uncover local farm fresh products within York Region. Maps are available at member farms, farmers' markets and municipal offices. A digital version can be downloaded Here.  The passport is available in the York Farm Fresh 2018 Guide Map or downloadable online at: https://www.yorkfarmfresh.com/passport 
Some of the highlights and features of this initiative include: 
Larger brochure format to replace z-card from previous years.
New this year included on the map is a passport which gives consumers the opportunity to collect stamps from the farms listed on the map and in return have a chance to win a Thanksgiving Harvest Basket ($250 Value).