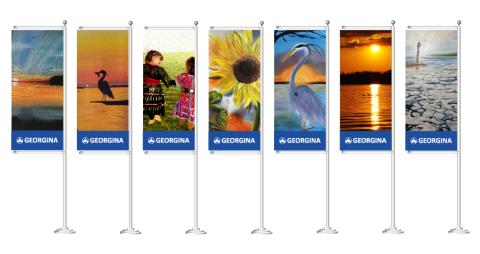 Public Art is the process of placing art in the public realm. The art can take on a variety of forms (e.g. mural, sculpture, performance, audio, video, etc.) or genres (i.e. abstract, classical, pop, etc.) and can be permanent, temporary or ephemeral. It is a key component in tourism development, neighbourhood design, the development of social cohesion, and as a tool for cultural expression.
In May, 2013, the Town contracted Cobalt Connects to develop its first Public Art Master Plan which can be accessed here.
The Town of Georgina is committed to encouraging the installation of public art that reflects the culture, heritage, vibrancy, and creativity of our town through a Community Betterment Grant and a Street Banner Program that displays local artists work on banners in the downtown areas.
Lighthouse Public Art Initiative

Calling All Artists! 

In June 2022, the Town partnered with the Georgina Centre for Arts and Culture in Sutton and Artistic Approach Studio in Keswick to host workshops to paint replica Jackson's Point lighthouses. Free to the public, residents over the age of five were invited to let their creativity and civic pride shine. The 100 replica lighthouses were installed throughout the Town's historic main streets in Jackson's Point, Keswick, Sutton and Pefferlaw.
2021 Street Banners

The chosen designs, submitted by Georgina artists, were be placed on banner flags, beautifying the Town's downtown areas spring through fall 2021. Submissions were juried by a selection committee composed of Mayor Margaret Quirk, a representative from the Georgina Chamber of Commerce, a representative from the Economic Development Committee, the Executive Director of the Centre for the Arts and Culture, and a representative from one of the three Business Improvement Areas.

Annett Westlake

"My painting of the Great Blue Heron was inspired by the amazing wildlife in Georgina and the beautiful sunsets of Lake Simcoe. It is always a joy watching the birds and other wildlife while kayaking along the shores of Lake Simcoe and coming upon a Heron strutting along the shoreline. I love hiking through the forests and parks in Georgina, watching the Heron Colony nesting on top of the trees and listening to the sounds of their young in the spring, always having a camera close by to capture a photo that later becomes an original painting."

Amanda Gallagher

"My submission reflects how I looked to my own backyard for wellness, support and inspiration during the pandemic. Living in Georgina gives me the chance to see beauty from the lake, the vast countryside just outside our town, and from home. The flowers were grown from my parents' hands, who spent hours making their own patch of paradise in my hometown. As the lockdown made me look for inspiration close to home, I turned to the intricate details of flowers and their unique blooms. They inspired me to take a step back from the tumultuous news and focus on what really mattered - cherished memories recollected from a simple image, such as a flower in bloom. I study how scenes are remembered and how colour transforms them into dreamlike scenes. My abstracted spray paint backgrounds act as a liminal medium between the natural subjects and the industrialized footprint of art creation. These flower subjects are enhanced through bright colours and impressionistic painting techniques."

Kim Big Canoe

"I've been a resident of Georgina all my life. I grew up on a street in Pefferlaw with my parents and three brothers. Living in Georgina inspires me on a daily with the beauty that surrounds me. The sunsets and sunrises are, to me, the most beautiful I've ever seen. I have been doing photography for the last eight years and love to capture nature and landscape scenes. I now reside on Georgina Island and live on the water, and I'm amazed by the beauty of Lake Simcoe. I'm submitting a photo of my nieces and nephew dancing at our annual Pow-Wow, the First Nations culture of Georgina."

Judy Weiser

"I have been a resident of Georgina for 27 years. Since moving here, I developed an interest in Photographing Georginas' magnificent sunsets. Originally from an Arts background, I embarked on opening up a business five years ago. My business includes, but is not limited to, Art & Photography Sales and Services. Submitted here are two Acrylic Paintings of some of the Sunsets I've photographed. Both paintings/photographs are taken at Raynors Dock in Keswick. This is where I find most of my inspiration."

Penny Gyokeres

"In speaking of Georgina Strong, I can only emphasize the love and support I have felt from this community of family, friends, and local businesses. Over 40 years of being a cottager and 12 years of being a homeowner in Georgina, there has always been someone in the community who can lend a hand. Pitching in is the pillar of the Georgina Community, even before COVID-19, this was a way of life for the Town. Through my position as an organizer of the Purple Turtle Art Festival, I have witnessed this sense of community through our artists and patrons, both local and out-of-town. The Town is endearing to them year after year. Growing up, I felt a sense of confidence playing in the lake from dawn until dusk with my friends. There was no way to get me out! As an adult, I am able to pass on the mystical feeling I still get whenever I am near the lake. I have always said that I gain a whole new world every time I put my head below the water's surface to witness the wonders surrounding me."

Theresa Cooney

"My art is mostly about the beauty that is all around us. It is an inspiration for most of my work. One especially during Covid, needs to seek the peace of mind and well-being. Nature can supply healthy mental and physical healing. I am excited to be a part of this community and very glad I live in such a beautiful place."

 

---

Contact information

Economic Development and Tourism Division

905-476-4301