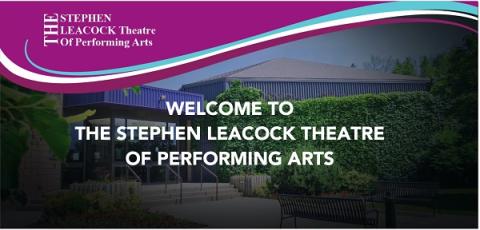 130 Gwendolyn Blvd.     Telephone: 905-476-0193
Keswick, Ontario            Email: slt@georgina.ca
L4P 3W8                        
Masking and vaccination status
As announced by the province, proof of vaccination and mask requirements are no longer required. The theatre will be open at full capacity. For more information, read the press release or email slt@georgina.ca.
Upcoming performances and box office hours
For upcoming performances, visit TixHub for a full performance listing.
The box office is open from:
                Monday: 9 a.m. to 4 p.m.
                Tuesday to Friday: 10:30 a.m. to 5:30 p.m.
                Saturday: 9 a.m. to 4 p.m.
All tickets can be purchased online, over the phone, or in person.
                * In-person ticket sales will be available during box office hours only.
                * No walk-in tickets will be available for purchase before the performance start time.
                * Online tickets can be purchased through TixHub 24/7.
Communication
method
Method of payment
In Person
Credit (VISA, MasterCard), Debit, Cash
Over the Phone
VISA, MasterCard
Online

Buy Tickets online with TixHub
Times and prices are subject to change, contact the box office for updates at 
slt@georgina.ca
.
For upcoming performances, visit 
TixHub
 for full performance listing.
COVID-19 measures
Covid-19 measures

When attending a performance at the Stephen Leacock Theatre of Performing Arts, patrons can feel safe and comfortable knowing that we are taking measures to protect you and our community.

In response to the provincial announcement, effective March 1, 2022, proof of vaccination will no longer be required, and capacity limits will be lifted. 

All shows will be sold at 100 per cent capacity with no physical distancing. Physical distancing will be required in all other areas of the centre except while seated in the theatre. 

We will continue to observe all provincially and regionally mandated safety protocols and do everything we can to provide a safe and meaningful return to the theatre.   

All patrons are encouraged to conduct a self-health assessment for COVID-19 symptoms before entering the building. Anyone experiencing symptoms of COVID-19 or advised by Public Health to self-isolate may not enter the Stephen Leacock Theatre. If you cannot attend a performance for these reasons, please contact the box office at 905-476-0193 or by email at slt@georgina.ca before the show where possible.

Enhanced cleaning measures have been established and Stephen Leacock Theatre employees, volunteers and security staff will be there to ensure your safety.  

Be sure to follow additional signage for your safety and safe flow through the centre.

Questions or concerns?  Feel free to contact us at 905-476-0193 or by email at slt@georgina.ca 

We look forward to safely welcoming you back to the Stephen Leacock Theatre of Performing Arts.