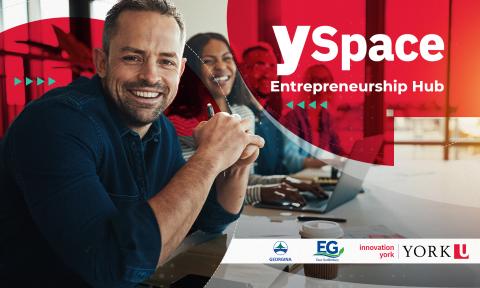 Entrepreneurship in Georgina
The Town of Georgina and the
Town of East Gwillimbury
are continuing a partnership with York University's
YSpace
to deliver a two-year Business Incubator/Accelerator pilot project to support entrepreneurs and economic growth during the recovery phase of the COVID-19 pandemic and beyond.
This project will create an ecosystem of entrepreneurial resources, including mentorship, access to networks and co-working space for collaboration. It will foster new business opportunities as well as personal and professional development for new and existing entrepreneurs. A combination of on-demand business support and programming within Georgina and East Gwillimbury, both in-person and virtually, will be offered. Programs will be refined and augmented to address the specific needs of each business community. 
Current Programming
---
Idea Consultations
Free one-on-one consultation services that connect entrepreneurs with YSpace's entrepreneurship team to understand how the entrepreneurial ecosystem can help your idea come to life. 
The program is open to entrepreneurs 18+ who reside in northern York Region, primarily in East Gwillimbury, Georgina and the Chippewas of Georgina Island First Nations. Whether you are an established business owner or a first-time founder, this program is designed to provide what you need to start or refine your business. 
The program provides:
Free one-on-one consultation with a business professional
A defined roadmap aligned to your unique needs
Access to additional support or mentorship via an ecosystem of volunteers through the local ecosystem of resources
---
Business Foundations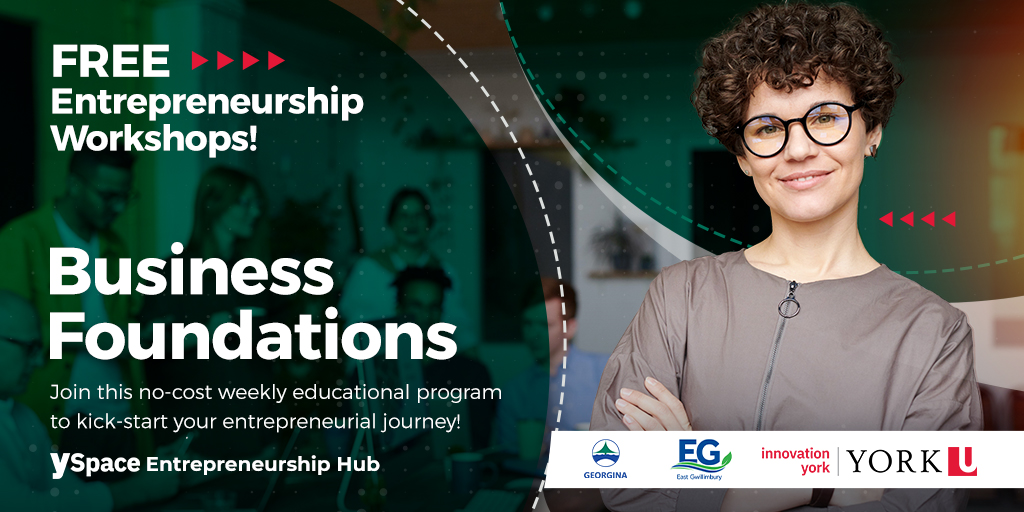 Business Foundations by York University's YSpace in partnership with the
Town of Georgina
and the
Town of East Gwillimbury
, is a weekly educational workshop series designed to help you kick-start your entrepreneurial career or challenge you to rethink your business. 
Whether you are looking to start a business or want to elevate your entrepreneurial journey, this program was created to teach you the essential skills and knowledge needed to succeed.
This free-of-charge educational workshop series covers topics such as
Building a Business Plan
,
Marketing and Social Media 101
, and
Setting-Up Business Operations
.  Additionally, individuals who attend at least seven out of the nine workshops (minimum of one hour on each call), will receive an Innovation York Certificate of Completion, illustrating your dedication to learning about the essentials of launching a successful business.
Ready to get started? View programming below to gain access to this entrepreneurial workshop series!
---
YSpace Georgina Wall Mural Contest

Calling All Artists!

 

Are you a talented artist and a resident of Georgina or Georgina Island? The Town of Georgina and York University's YSpace invites local artists or teams of all ages to submit their artwork. The selected artist or team will create a mural that will be on the interior wall of the new YSpace Georgina incubator/accelerator space, located at 1 Market St., Sutton. 

 

Our goal is to showcase the talents of local artists and reflect the culture, heritage, vibrancy, and creativity of our town. We are passionate about supporting and promoting local artists and talent and are excited about featuring original art at the new YSpace Georgina incubator/accelerator space.

 

The theme of the mural wall is: 

Entrepreneurship

(business start-ups, growing the business community, promoting inclusivity and diversity within our business community)

 

Program Details

Entries are limited to two entries per person/team. 
Artists must be residents of the Town of Georgina or Georgina Island. 
One entry will be selected for the wall mural project. 
Jurors will mark submissions based on the judging criteria shown in Appendix B.
The jury selection process is anonymous. Artists including their name in the title of the work will be disqualified. 
Only selected submissions will be notified. 
The Town of Georgina will have reproduction rights to the winning submissions.
The participant/artist(s) retains sole copyright to his/her original artwork. 
Town of Georgina employees and family members are not eligible for this project. 

Selection Criteria

Only one design will be selected. The selected artist will be responsible for painting the proposed design on the mural wall at 1 Market St., Sutton by July 15, 2022.

 

The artists will be responsible for submitting their design and cost breakdown for the completion of this project.

 

The successful designs will be promoted online at georgina.ca/YSpace and through our social media channels. The web page will include an image of the mural wall, along with the artist's profile.

 

Submissions will be juried by a selection committee composed of Mayor Margaret Quirk, a representative from YSpace, a representative from the Georgina Centre for the Arts and Culture and 2 members of Town of Georgina. Submissions will be selected based on the criteria outlined in Appendix B and the following:

Compliance with the competition requirements, objectives, and theme.
Professionalism in the presentation of materials.
No offensive imagery or word usage is permitted. 
Confidence that creativity, quality, and style demonstrated in portfolio materials and preliminary design concepts will translate into the development of a high-quality final mural design and implementation.
The authenticity of the original design or content being submitted. 

Deadline for submissions 

All designs must be submitted by 8 p.m. E.S.T. on June 10, 2022, by email to 

ed@georgina.ca

.

 

Juried selection

Submitted designs will be reviewed by a selected jury. The selection criteria are shown in Appendix B. 

 

Winning submissions announcement 

 

How to submit your entry

 

Electronic submissions

High-resolution image files being submitted electronically are limited to two uploads per applicant.

 

Submission Requirements

A complete submission package includes the following documentation: 
Artist declaration: use the form provided below.
Mural design cost breakdown: this should include the cost of all materials, the artist fee for producing the mural wall, and the timeline needed to complete the work.
Artist statement (1000 word maximum): a written description of how living in Georgina inspires the artist's work.
Up to two digital submissions or the artist's work can be considered for the project.

Medium

Design submissions can be produced using acrylic paint, pencil, marker, pen, crayon, watercolor or digital drawing.
The final mural design must be completed in one of the following mediums: interior wall paint or vinyl wall sticker.
Art must be clearly visible and legible under low light or when viewed from a distance. 
The final mural wall design must be the following dimensions: (8ft high x 12.10 ft wide)
By submitting artwork for consideration for the YSpace Georgina mural wall project, the artist warrants and represents that they are the owner of the artwork, and the artist hereby grants to the Town of Georgina the right to use the art for the designated purpose of the YSpace Georgina wall mural project. The Town of Georgina will have the right to use digital images of the mural wall in all forms of media and communications to promote the Town of Georgina.
The Town of Georgina has the right to remove any artwork for any reason at any time.

Appendix A - Wall Mural Specifications

Dimensions of the mural location: (8ft high x 12.10 ft wide)

 

Appendix B - Judging Criteria

 

Criteria
Score

Submissions connection to the Entrepreneurship theme

/30

 

Overall aesthetics of the submission

 

/30
Submission meets guidelines outlined in the program
/30

Artist statement

 

This should include the inspiration for your chosen images and design, and/or a testimonial about your project. "How does living in Georgina inspire your art?" 

 

/10
Total
/100

 

For more information about contributing to public art in the Town of Georgina visit 

georgina.ca/publicart

.

 

Contact information

Stephanie Simpson

Business Entrepreneurship Coordinator,

Economic Development and Tourism Division

 
Fill out the artist declaration.

<div class="tieit_form_wrap" data-wrap="form_wrap" id="216e617588fc3393d8ff59b736c9ac07">&nbsp;</div><script src="https://app.tieit.io/assets/scripts/forms/embed_form.min.js"></script><script type="text/javascript">window.onload=function(){EmbedManager.embed({key:"216e617588fc3393d8ff59b736c9ac07",page_id:"",is_embed_form:"1",embed_key:"640ffb9beb6d0ff70d40666c21866ff0",site_url:"https://app.tieit.io/",external_style:1,default_style:1,internal_submission:0})}</script>