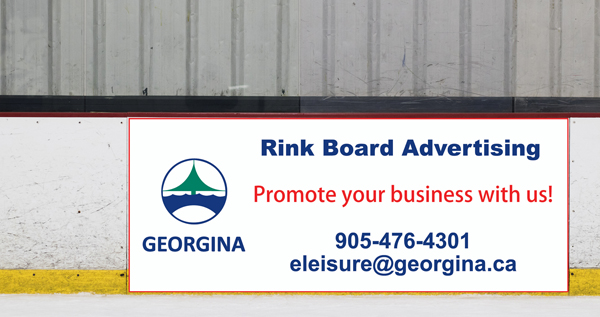 Advertise your business in the Georgina Ice Palace and Georgina Sutton Arena for all visitors to see! There are a number of Advertising options at the Arenas with the most common being Rink Board Advertising starting at as little as $400 per year.
Rink Board signs should be approximately 38 inches X 8' and be installed with a lexan cover.
Permit holder is responsible for supply & installation of Rink Board Advertisement. Arena Supervisor reserves the right to request maintenance and/or replacement of sign at the permit holder's expense."
Subject to availability, payment can be made over the phone with VISA/Mastercard, or in person with Cash, Cheque or Debit.
Additional information, contact Customer Service by email at eleisure@georgina.ca, or at 905-476-4301.