Welcome to Water Does Wonders!
Celebrate World Water Day March 22 - take part in The Great Gulp - a toast to our drinking water!
The Healthy Kids Community Challenge is all about helping Ontario kids make healthy choices. Our community is one of 45 across the province chosen to be a part of this special project. That means new ideas and programs are coming to our community - things that make it easier for kids to be active and eat healthy. These are the keys to good health as our children grow up and become adults.
Get your refillable water bottle ready! The next Healthy Kids Community Challenge theme has been announced as "Water Does Wonders". This theme runs from July 1, 2016 to March 31, 2017. The Water Does Wonders theme encourages kids and families to drink more water. Water is essential for good health. It is also a simple, convenient, and low cost option for quenching thirst. Participate in the Challenge by encouraging kids and families to make water their first choice to drink with meals and throughout the day.
Throughout this theme, Georgina's Healthy Kids Community Challenge plans to...
Purchase and install water bottle filling stations in parks and facilities across Georgina
Promote blueW to increase awareness of water filling station locations in Georgina and across Ontario

blueW water bottle stickers are available (while supplies last), contact us for details
If your business will offer free water bottle refilling, contact us for your free blueW window decal
Work with the community to offer education, build awareness and provide supports that promote healthy hydration in Georgina

As of the end of October 2016, Healthy Kids has connected with over 1500 children and youth to promote healthy hydration through sugar shocker displays/presentations, fun activities, program visits, special events, etc.
Plan on seeing us around soon!
Collaborate with local groups and organizations to learn what role water plays on community healthy and to establish a network of support in Georgina

​Our Steering Committee is made up of dedicated folk from a number of organizations supporting children and families in Georgina. They are working hard to ensure the success of the Healthy Kids Community Challenge initiatives.
WATER DOES WONDERS!
We all know healthy eating is important for growing children. So is healthy hydration!
Did you know...
Water makes up more than half of a child's body weight and is an essential nutrient
Children need lots of water to stay hydrated and keep their bodies working properly.
Water regulates the temperatures of the human body. It carries nutrients and oxygen to cells. It cushions organs and joints. It also aids digestion and removes waste.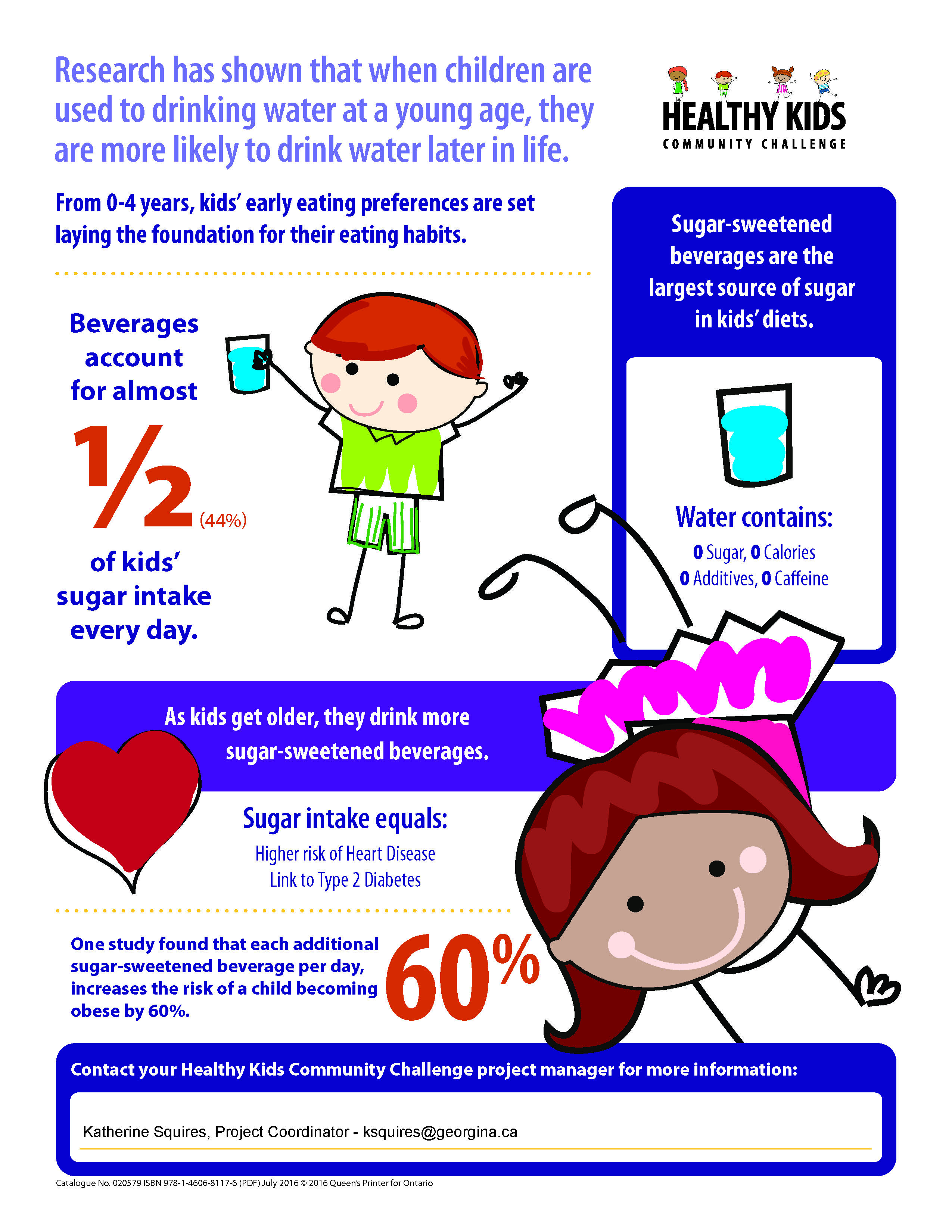 RETHINK YOUR DRINK!
Did you know...?
Sugar sweetened beverages are the single largest sources of sugar in kids diets? Almost half (44%) the sugar children and youth take in every day comes from beverages!
Sugar sweetened drinks often replace healthier choices such as vegetables, fruits, and milk. Kids need these foods to grow and be healthy.
Children and adolescents who drink pop often are more likely to have less calcium and other nutrients in their diets.
What can you do...?
Avoid fruit drinks, pop or diet pop, sports drinks and energy drinks, iced tea, ice slushy and bubble tea.
Make sure that if you do choose juice that it is 100% juice (fruit, veggie or a combo)
Flavoured milk or fortified soy beverage is also ok sometimes. Unflavoured is even better!
Make WATER your FIRST CHOICE for healthy hydration every day!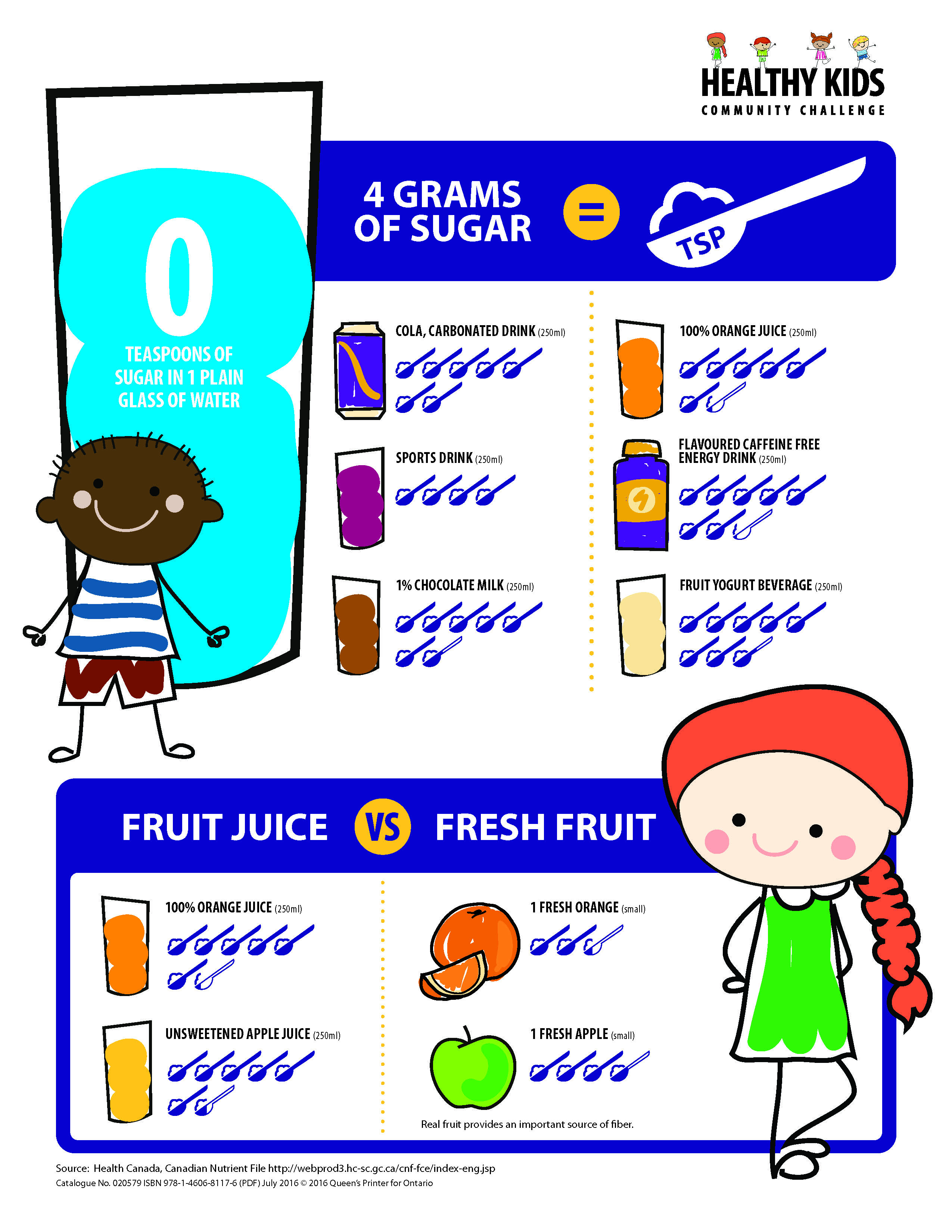 For more information on the Healthy Kids Community Challenge contact Katherine Squires, Project Coordinator - ksquires@georgina.ca or 905-955-1597
Check out these awesome resources!