Seniors Recreation Programs and Club 55 Memberships
Please note that our Club 55 locations are currently closed due to COVID-19. You can find current program opportunities for older adults on our Registration page.
Notice of program cancellations and facility closures amid COVID-19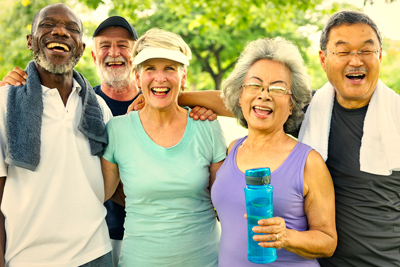 Club 55 is the Town of Georgina's Senior focussed active programming centre. We currently have three locations in Georgina to serve those who are 55+ with activities and social events, including dances, outings, get-togethers, cards, games and so much more! For a full listing of the services we offer, please check out our monthly newsletter available in hard copy at Club 55 Keswick and by email to our members.
Locations:
Club 55 Keswick - 130 Gwendolyn Blvd., Keswick, ON L4P 3W8 Phone: 905-476-9972
Club 55 Sutton - 1 Market St., Sutton, ON L0E 1R0 Phone: 905-722-9508
Club 55 Pefferlaw - Pefferlaw Lion's Community Centre, 38 Pete's Lane, Pefferlaw, ON L0E 1N0 Phone: 905-476-9972
Membership:
Membership to Club 55 is easy and affordable. It gives you great advantages to discounts on outings, lunches and drop-in programs.
An annual membership for residents is $20.00+HST (*$22.60) and runs from January 1 to December 31 of that year.
An annual membership purchased after July 1 is reduced to $10.00+ HST (*$11.30) for the remainder of the year.
Sutton Seniors ONLY Memberships (Membership only to Club 55 Sutton) is $10.00 (no HST)
For more information, or to request a Meet-and-Greet opportunity at Club 55 Keswick, please call 905-476-9972 or email the Seniors Recreation Programmer, Katherine Squires at ksquires@georgina.ca
Georgina's Recreation Opportunities
Outside of Club 55, Georgina also offers a number of other recreation opportunities for the 55+ age group. Check out Registration page for details.