Farm 911 Emily Project Access Point (EPAP)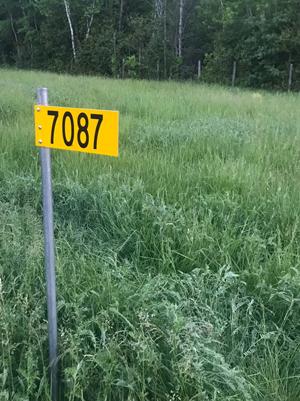 Farm accidents often happen in remote locations. This can make it difficult for first responders to locate the site of the emergency and respond in time. Following an accident, every second counts. But without a clear address marker, it can be difficult for first responders to find the people who need help.
About
Farm 911 encourages property owners to apply for a civic address located at the entrances of rural properties to help first responders locate an emergency as quickly as possible.
Large properties with multiple entrances in rural settings can pose challenges for first responders. The goal of Farm 911 is to create address markers and clear signage to help with access and response time.
In the event of an emergency, no one should have to wait helplessly for first responders. Time is everything and a civic address at the entrance to a farm field could make all the difference. The Town of Georgina encourages agricultural property owners to inquire and apply for the installation of one of these civic addresses.
Note: the definition of property owner includes authorized representatives with lawful control of the property.
How to apply
Process
Applications will be reviewed by the Planning Division. The Town's review process will not begin until a complete application package has been received. Changes to the application by the applicant during the review process will increase the length of the review period.
Applying for a FARM 911 EPAP address does not guarantee the application will be approved. If approved, applicants will be notified by phone and the sign will be sent by courier to the applicant.
FARM 911 EPAP Address Use: The address assigned to the property shall only be used to reference the location of the field entrance to the property (such as for emergency services) and shall not be used as a mailing address for the property.
Installation and maintenance: The property owner and/or tenant shall be responsible for the installation of the address post and sign. The installation guidelines, as indicated through the Civic Numbering By-law and Manual, shall be followed. The owner is responsible to ensure signage remains visible and is maintained. If the sign is damaged, the owner may contact the Town for a replacement sign.
Changes to access/entrance: Property owners must apply for an entrance permit, and any other permits/approvals required, for any changes to the access in which a FARM 911 EPAP address has been assigned. An assigned address through the FARM 911 EPP does not guarantee an approved entrance permit for this location, as at the time of the entrance permit application, the access/entrance will need to meet the Town's current standards.
Classification of access/entrance: The assigned address through this application shall only be used for fields or vacant properties (classified as field entrances), and will not be suitable for residential building applications. Further, obtaining a FARM 911 EPAP address in no way constitutes a legal entrance.
Frequently Asked Questions
What is a civic address?

A civic address is a combination of a building number (which sometimes includes a unit number, suite number etc.) a street name (which can include a prefix direction, name, suffix and type) and the lowest legally recognized jurisdiction.
What is the difference between a civic address and a 911 number?

Your civic address is what you must provide to the 911 dispatch person in case of emergency. In essence they are one in the same thing, however this is not necessarily the case in other jurisdictions.
Do I need a civic address?

If you own a property which contains a dwelling(s), or has a phone line, you must have a civic address. If you own a property which contains a building in which people spend time (e.g. working in a barn) you should have a civic address. If you have a vacant piece of land a civic address is optional.
Do I need a green civic address sign?

As a general rule, rural properties require a green sign and post and urban properties do not, although hamlet areas can be difficult to be sure as some have signs and some do not. Looking around at neighbouring properties would provide a good indication, but it may require contacting Town staff to be positive.