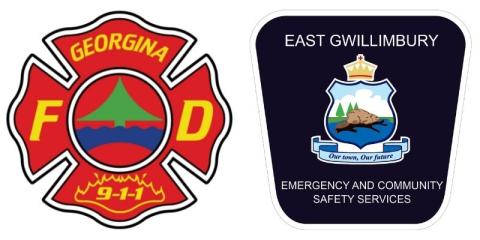 Online survey
The Town of Georgina and the Town of East Gwillimbury have partnered to review fire and emergency services.
A survey has been created to get feedback from each community to help plan the future of the fire service. Complete the survey and share your thoughts on the mission statement, vision statement and guiding principles. Your feedback will help shape the service delivery review project. The survey will remain open until the end of July.
Virtual public session
The Town of Georgina and the Town of East Gwillimbury held Public Information Centres (PIC) on June 28 and 29.
Both sessions were recorded and can be viewed online.
Municipal Modernization Program
The Town of Georgina and the Town of East Gwillimbury have initiated a Joint Fire Services Assessment through the Municipal Modernization Program to investigate modernizations and efficiencies. 
The impact of the COVID-19 pandemic has shone a spotlight on the importance of efficient municipal services that are financially sustainable. Even as municipalities continue to face challenges, there are also opportunities to evolve services and stimulate new ways of doing business to better serve our growing communities.
Residents of East Gwillimbury and Georgina are provided with reliable and quality fire and emergency services. Under the leadership of the department Fire Chiefs and guidance of municipal strategic plans, both towns focus on continuous improvement in how we provide services to residents.
Both municipalities will see significant growth in the coming years, and East Gwillimbury and Georgina see opportunities for collaboration that may result in enhanced service for both municipalities. With funding received from the provincial Municipal Modernization Fund, East Gwillimbury and Georgina have partnered to review fire and emergency services.
Project overview
The Joint Fire Services Assessment project will determine efficiencies and modernization opportunities under the terms of the Office of the Fire Marshal's Three Lines of Defence:
Public Fire Safety Education
Fire Safety Standards and Enforcement
Emergency Response
The project includes:
A refresh of both municipalities' Fire Master Plans to address current growth projections
Analysis of the three potential service options:

standalone modernized fire services for both municipalities
shared services options
consolidated composite (full-time and paid-on-call/volunteer) department models

Implementation strategies for all options
Our goal, as always, is to deliver an efficient, effective and modern fire service for our residents and businesses. Public consultation opportunities will be provided. Check municipal websites for when and how to participate.
To learn more about the fire services and this project, contact Fire Chief Ron Jenkins.