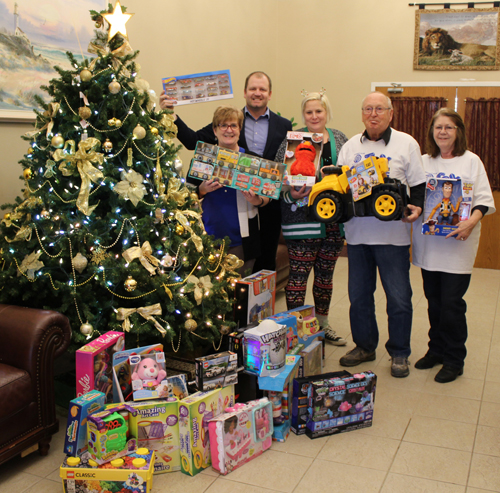 Mayor Margaret Quirk, Mike Hutchinson, manager of Muncipial Law Enforcement and Members of the Optimist Club with the toys collected in the 2019 campaign.
Turn something naughty into something nice this holiday season. The Town of Georgina introduced a Toys for Tickets parking ticket campaign in 2019.
From Nov. 22 to Dec. 6, 2019, people who received a parking ticket for violating the 2 a.m. to 7 a.m. parking restriction had the option of paying the ticket with a new, unwrapped toy equal to or greater than the amount of the fine. All toys received were distributed to the less fortunate through a local charity.
To donate, bring the parking ticket along with an unwrapped toy in its original packaging and proof of purchase, to the Municipal Law Enforcement Division at the Civic Centre.
What you need to know:
This option is only available to ticket holders that receive a ticket for violating the 2 a.m. to 7 a.m. parking restriction from Nov. 22 to Dec. 6
The value of the toy must be equal to or exceed the amount owing on the fine. For example, if the fine amount is $30, then the total value of the toy must be equal to or exceed $30 (including taxes)
The new toy must be unwrapped and in its original packaging. Gift cards will not be accepted
The toy's receipt and the parking violation must be presented at the time of payment
Toy donations will only be accepted at the Municipal Law Enforcement Division at the Civic Centre, second floor, 26557 Civic Centre Rd.
Under the Town of Georgina Traffic and Parking Control By-law, it is an offence to park any vehicle on any roadway between the hours of 2 a.m. to 7 a.m. from Nov. 15 of each year to April 15 of the following year