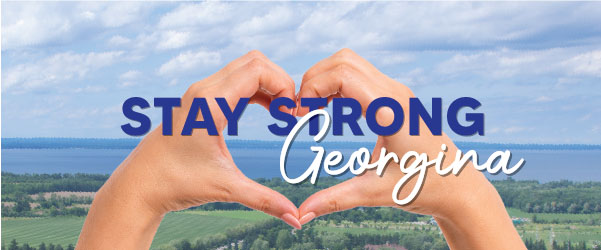 Town introduces Stay Strong Georgina campaign
The Stay Strong Georgina campaign will serve to connect the community by bringing people together and keeping them apart at the same time. As it moves forward, new activities and programs will be introduced to keep the community engaged. Now let's get started by spreading the smiles!
Acts of Kindness in Georgina
Do you know someone in Georgina who has gone above and beyond in our community during the pandemic? Maybe it's an individual or a business that went out of their way to show you an act of kindness. The Town wants to hear about these experiences and share them at an upcoming Council meeting and on the Town's social media channels. Help us inspire others by sending your nominations of kindness to StayStrong@georgina.ca. See below for the people and organizations who have been recognized.
Recognized Acts of Kindness
Personal support workers at Riverglen Haven
The personal support workers (PSW) at Riverglen Haven have been working tirelessly throughout the pandemic. One, in particular, is Jaymie Lee White, who has been comforting Maureen's mom in palliative care. Jaymie sits with Maureen's mom each night, encouraging food, conversation and always affection. This means the world to Maureen, who believes "all the PSWs deserve so much recognition for going above and beyond in their duties. With pure heart and compassion. The frontline staff are nothing less than heroes."
Elaine Coats
Elaine Coats, the owner of the Black River Cafe in Sutton, has always been there to help her community. Elaine's dynamic personality and positive humour have been a shining light during a dark time, whether it's helping support local charities, donating PPE or supporting other local businesses. Elaine's kindness is unmeasurable and has touched so many people here in Georgina.
Routes Connecting Communities
Routes Connecting Communities is a Georgina-based not-for-profit dedicated to helping people get to where they need to go. The organization provides service to all of York Region. The 46 Georgina Routes volunteers never stopped throughout the pandemic. In the past three months, this fantastic group of volunteers:
Provided 2,302 rides to Georgina residents needing to get to lifesaving medical appointments like ongoing cancer treatments, dialysis, and receiving injections
Delivered 709 meals and groceries to Georgina residents who could not leave their homes during the pandemic
Made 304 friendly phone calls to residents so they could stay socially connected
Ashley
Georgina resident Ashley was unsure what to do for her autistic son Tyler's sixth birthday. Tyler was upset and couldn't understand the lockdown meant no party or seeing family for your birthday. Ashley turned to the Connecting in Georgina 2.0 Facebook group, asking community members if they would be willing to help celebrate Tyler's birthday in a COVID-19 friendly way. People sent cards, gifts and kind messages, which ended up giving Tyler the best birthday ever. Ashley says, "I am forever grateful to this Town for making my son's birthday so special and for showing my family so much love."
Naomi
Naomi is a small business owner in Georgina with a big heart. When she and her friend saw the stress and frustration COVID-19 had caused the community, they wanted to do something about it. With the help of Naomi's business, That Cake Pop Girl, and her friend's business, Berry Delicious, they decided to bring some smiles to one lucky family. They did this by doing a treat giveaway – not for follows, likes or shares, just to brighten someone's day. Naomi believes an act of kindness and a good deed goes a long way to keeping our community happy, loved and connected.
Alicia
Georgina resident Alicia is currently expecting her second child and is a registered nurse at Markham Stouffville Hospital in the Intensive Care/Critical Care Unit. Alicia not only cares for her patients and their families, she also helps build up and train recent Critical Care Registered Nurse graduates. Alicia boosts the morale of all ICU staff, including nurses, doctors, administration and support staff. Alicia works tirelessly on the frontlines supporting her colleagues and patients while still showering her family with love and support. Alicia's kindness can be seen in her actions, attitude and courageous spirit that she demonstrates at all times.
Looking for fun activities to keep you and your family engaged while practising social distancing and self-isolating? Our team will continue to add new activities such as games, workout tips and craft ideas to this webpage. Give it a try.
Stay safe and healthy! Visit georgina.ca/RecreationAtHome to participate.