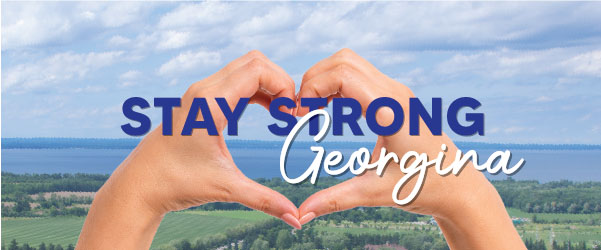 Town introduces Stay Strong Georgina campaign
The Stay Strong Georgina campaign will serve to connect the community by bringing people together and keeping them apart at the same time. As it moves forward, new activities and programs will be introduced to keep the community engaged. Now let's get started by spreading the smiles!
Kindness is always present in the Town of Georgina. Even during the COVID-19 pandemic, there have been many examples of residents and businesses showing good will in the community. Let's pay it forward! If you have experienced an act of kindness which brought a smile to your face during this unprecedented time, the Town wants to hear from you! Share your story and help spread the smiles. Post your story on Facebook, Instagram or Twitter using the hashtag #StayStrongGeorgina and tag the Town @TownofGeorgina. Not on social media? Email your story and photo to us.
Looking for fun activities to keep you and your family engaged while practising social distancing and self-isolating? Our team will continue to add new activities such as games, workout tips and craft ideas to this webpage. Give it a try.
Stay safe and healthy! Visit georgina.ca/RecreationAtHome to participate.