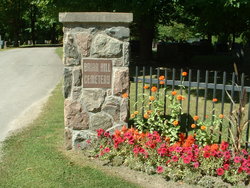 The Briar Hill Cemetery Board is the body that governs the operation of the Briar Hill Cemetery, located at 5500 Black River Road in Sutton, Ontario, in accordance with the Funeral, Burial and Cremation Services Act, 2002.
The BHCB:
has complete control and management of the land, buildings, plantings, roads, utilities, books and records of the cemetery
has the power to enter into and inspect the cemetery and its condition, to ensure that the cemetery is properly fenced, kept clear of weeds and otherwise cared for in a proper manner
Note: as of July 15, 2015, Briar Hill Cemetery is no longer affiliated with the Town of Georgina.
For assistance, please contact Carole Forrest at Forrest & Taylor Funeral Home at (905)722-3274.
Agendas and Minutes
Please visit the BHCB Agendas and Minutes web-page.