The Keswick Cemetery Board is responsible for the administration of Town-owned cemeteries on behalf of the Council.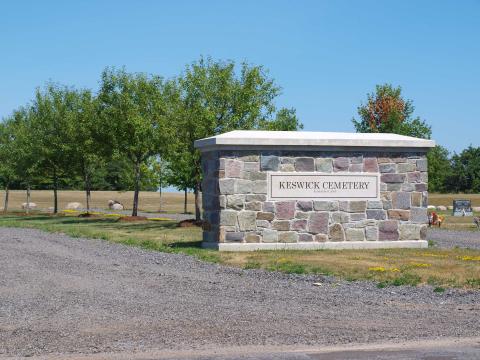 The board's terms of reference provide the purpose, general activities and membership responsibility of the Keswick Cemetery Board. 
Committee composition
Membership consists of one member of Council and five citizen appointments:
Regional Councillor Robert Grossi, Chair
Susan Williams, Vice Chair
Mary Finlayson
Andre Arndt
Agendas and minutes
Please visit the KCB Agendas and Minutes.
Meeting information
The Keswick Cemetery Board meets periodically throughout the year.
For assistance and information, please contact the Clerk Services Coordinator at 905-476-4301, ext. 2336.
Keswick Cemetery Board goals
Oversee and manage the land, buildings, plantings, roads, utilities, books and records of the cemetery
Administer Keswick Cemetery Board By-law, which has been adopted for the improvement and upkeep of the cemetery
Inspect the cemetery and its condition to ensure that the cemetery is fenced correctly, kept clear of weeds and otherwise cared for in a proper manner
Oversee with the Town's Clerks Department the inventory and sale of cemetery plots