Taking fun to new heights!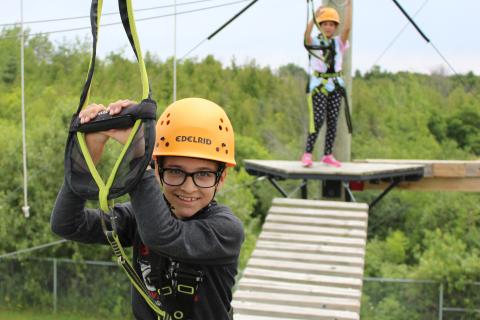 Summer activities at the ROC
​Ropes and rocks drop-in and climbing nights

Take fun to new heights and test your limits on the climbing wall, vertical playground and low and high ropes course.

$20 per person fee applies to all drop-in dates. 

Our challenge course is open to all participants aged 6 and up, with access to the high ropes course at 10 years and up.

Drop-in or

register online

to secure your spot.

Drop-in dates - closed for the season

 
Outdoor programs (archery, biking, dog training, outdoor survival, and crafts)

Archery

Join us for a fun evening of archery. With programs for children, youth and adults, anyone can try the sport of archery in a fun and friendly environment. The program focuses on the basics of safety, proper stance, technique and target practice with a camp bow. No experience or equipment necessary. 

Ages 8yrs+

Biking

Riders will practice balancing and riding exercises to build a strong foundation on their own bike. Activities will include learning the parts of a bike and helmet, biking safety, starting and stopping, turns, and navigating changes in elevation. All participants must come with their own bike and helmet (training wheels are not permitted), and must be accompanied by a parent/guardian who has the physical strength to provide support to the rider while on their bike.

Ages 3-8yrs

Come ride with us. This program explores the ROC's bike park and mountain bike trails. Riders develop technical skills, learn trail/park etiquette and will increase their confidence and biking abilities. CSA approved bike helmets must be worn. Participants must provide their own bike and helmet. 
Ages 8-14yrs

Crafts

Join us for a new craft each week at the ROC. Nature enthusiasts will forage for crafting materials on the ROC grounds before heading inside to create their masterpiece. Participants will learn about their natural environment, including education on nature protection and preservation.
Ages 8 - 12 yrs

Dog training

Pawlished Puppy is a six-week class that focuses on basic skills, proper socialization and how to build an unbreakable bond with your pup. The program aims to make training fun and helps create good communication between you and your puppy, builds confidence in yourself as a handler and helps you navigate the world with a better behaved and well-adjusted puppy.
Ages 18yrs+

Work in Paw-gress is a six-week class for dogs over six months of age. The program focuses on basic skills, problematic behaviours and management techniques to help navigate puppy adolescence and help set you up to succeed. The main objective of this class is to help strengthen the bond between you and your dog, help build confidence in yourself as a handler and to make training fun.

Ages 18yrs+

Outdoor activities and skills

Get outside and enjoy a variety of different outdoor activities. this program provided students with an opportunity to learn new skills and explore our natural environment. Activities include; active games that teach about environment, nature arts and crafts and much more. Activities may vary depending on the season and will include activities on the ROC's low ropes course and archery range.
Ages 6-9yrs

Learn how to survive in the wilderness. Participants will learn the essentials of how to survive in the great outdoors by experiencing hands on activities such as making shelter, food, and how to stay warm. Activities vary by the season. Includes archery.
Ages 7-12yrs

Join us for a four week program to try out some of the ROC's greatest challenges. Each week participants will have the opportunity to experience one of the following activities: climbing wall, vertical playground, archery and high and low ropes. Participants aged 9 years and under will participate in the low ropes challenge course, participants aged 10 and over will participate in the high ropes challenge course. All equipment is included.

Ages 8-14yrs
Baseball and softball diamonds

Complete with a full regulation sized field, enhanced t-ball and blast ball fields and three softball diamonds, the ROC is the ideal spot to host your baseball games and tournaments.

Contact Service Georgina for group and tournament pricing at 905-476 4301.
Basketball courts

Practice your dunks, dribbles and passes on one of the ROC's two, half-court basketball courts.

 

Free for regular drop-in activities.

 

Unsupervised, use at own risk.
Beach volleyball

The ROC's three beach volleyball courts will provide fun in the sun during the summer months.

 

Free for regular drop-in activities.

 

Unsupervised, use at own risk.
Bike park

Boulders, bridges, rock gardens, skinnies, rollers and jumps will challenge riders and build skills.

 

The ROC bike park consists of three sections — dirt jumps, pump track and the learning area.

 

The dirt jumps offer a multitude of options for advanced riders.

 

The pump track has been configured for both novice and advance users to practice their pressure control and cornering skills.

 

The learning area includes features that allow the user to work on individual or multiple skills in order to navigate successfully.

 

Riders can also try their skills in a trail setting on the progression trail.

 

A certified helmet is strongly recommended. 

 

Free for regular drop-in activities.

 

Unsupervised, use at own risk.

 
Group bookings

Experience the great outdoors with your friends, family or co-workers at the ROC.

Whether you are looking to host a birthday party, add some excitement to your corporate team building, or just a fun night out with friends, the ROC has a solution to meet your needs.  

Community, sports and corporate groups
Labyrinth

Labyrinths have been known and used for over 3,500 years by people of many cultures.

The ROC labyrinth is based on Cretan design and was created by volunteers from Hospice Georgina under the leadership of Debra Scott.

The labyrinth is a single path walk. There are no tricks to it and no dead ends. The path is winding and becomes a mirror for our lives; it touches our sorrows and releases our joys. As we walk it with an open mind and an open heart, it leads to healing, blessing, self-knowledge, clarity, balance and the shedding of guilt.  

Visitors welcome to walk the labyrinth at any time.
Feel free to care for the grounds and to treat them as a sacred space. 
Lawn bowling

Fun and friendship outdoors

Benefits of joining the Georgina Lawn Bowling Club:

Gentle exercise
Outdoor activity
For all ages
Co-ed sport
Free instruction
Friendships

Your membership includes a membership in the Ontario Lawn Bowling Association. 

For membership inquiries, contact Gail Lowe 905-596-0410

Give it a try.

Open house
Saturday, June 3, 10 a.m. - 1 p.m.
North Shore bike trails

For the Experienced Rider. Unsupervised, use at own risk.

Once the riders feel confident they've mastered the beginners trail, pump track and dirt jump park, they can enter the North Shore Trails system.

The North Shore Trails consist of two trail challenges. The first trail cluster is geared towards the intermediate riders, testing their skills level while offered varying routes increasing the level of excitement. The second trail is the most southerly trail consisting of advanced features. These features range from intermediate to expert levels.

This bike park is guaranteed to please. A certified helmet is strongly recommended. Use at own risk.

Free for regular drop-in activities.
Soccer fields

With 10 sports fields, including lit and unlit, naturally and artificially surfaced fields, and four regulation sized fields The ROC fields can accommodate outdoor field sports such as soccer, lacrosse, and field hockey.

Contact Service Georgina for group and tournament pricing at 905-476 4301.
Splash pad and naturalized play area

The ROC naturalized play area is accented by a water play splash pad, play structures, slides, landforms and play pods. The water play area is a fun-filled haven for children; a place to enjoy laughs and thrills in a safe, green and environmentally responsible environment. Splash equipment includes vertical jets, dump buckets, high volume jet and ground spray nozzles.

Unsupervised, use at own risk.
Tennis courts

Four fully lit asphalt tennis courts provide a great facility to enhance your tennis skills.  

Available to be rented for tournaments and group bookings.  

Contact Service Georgina for group and tournament pricing at 905-476 4301.

Free for regular drop-in activities.  

Bring your own equipment.

Unsupervised, use at own risk.
Walking trails

Walking trails are located throughout the ROC property. Trails are made of gravel, chips, grass or dirt. There is also a one-kilometre accessible trail on either paved or concrete surface. Unsupervised, use at own risk.

Remember your water.