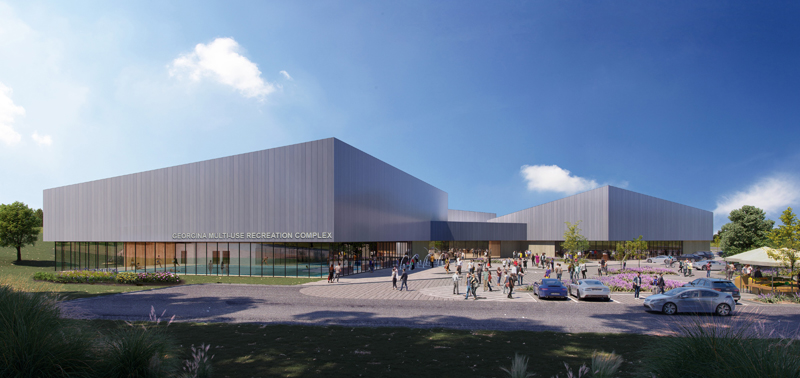 A Multi-use Recreation Complex (MURC) was approved in principle following a Recreation Facility Needs Study in 2014 that involved much research and public consultation. The MURC will include a six-lane 25-metre pool, therapy pool, double gymnasium, indoor walking track, multi-use meeting/activity rooms, active living space and a Discovery Library branch.
The planned location is on the west side of Woodbine Avenue between Glenwoods Avenue and Ravenshoe Road. The concept plan for the facility was developed with public and stakeholder consultation. Be sure to check this page often for project updates.
Check out the new MURC video.
On Nov. 27, 2019, the design for the new MURC was revealed at the Town Council meeting.
Earthworks
The MURC earthworks are currently being completed by DG Group. Council approved a noise exemption by-law to allow them to operate 24 hours a day to do the earthworks. This work should be completed on or before Sept. 30, 2021.
For concerns or complaints, contact:
Contractor: ConDrain – 416-230-8673
Consultant: Schaeffers – 416-254-9635
Town contact:
engineering2@georgina.ca 905-476-4301, ext. 2329
bylaws@georgina.ca 905-476-4301, ext. 2279 or 2454
Location map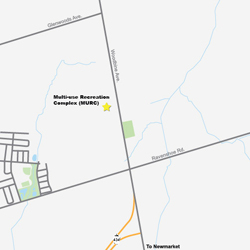 Concept design
Concept design (3.06 MB) for the MURC
Sponsorship
The MURC is available for multiple naming rights and corporate sponsorship opportunities
Contact Patti White, Manager of Recreation Services at pwhite@georgina.ca to express your interest in the MURC facility today!
Media Releases
Town moves forward with construction of Multi-use Recreation Complex - June 23, 2021
Georgina reveals design for new Multi-use Recreation Complex - Nov. 28, 2019

Billboard marks MURC future site - May 11, 2018
Public input sessions
Presentation -
Multi-use Recreation Complex (4.13 MB) - May 27 and June 4, 2019
Business case for the MURC
Business case for the Multi-use Recreation Complex (776.06 KB) - Nov. 16, 2018
Questions and Answers
How much is the MURC going to cost to build?
Council approved a budget of $50.2 million for the Multi-use Recreation Complex on June 23, 2021.
How are we going to pay for the construction of this recreation complex?
To build the MURC (capital cost), 100 per cent of the funding for the project is provided by development charges (DC). It is important to note we do not anticipate any additional tax increases associated with the construction of the MURC. As per the Ontario Development Charges Act, both principle and interest paid on any DC-funded project, are also eligible for DC funding. As such, the MURC capital costs including the debenture costs will have no additional impact on the tax levy.
Why was the estimated project budget adjusted from $42Million as approved in 2019 to $50Million as approved in 2021?
The 2019 budget accounted for five per cent annual cost escalation in the high end and anticipated construction completion in 2021. The 2021 budget was adjusted to reflect impact of the COVID-19 pandemic that pushed the construction schedule to 2023 and 10 per cent annual cost escalation on the high end.
What about the operating costs for the MURC?
As presented in the 2020 and 2021 draft budget reports, the anticipated annual net operating expenditures relating to the MURC will be approximately $2 million. This includes $1.5 million for the pool/gymnasium and $500,000 for the library.
Anticipated start of construction of the MURC is September 2021.
Where will the MURC be located?
The planned location is on the west side of Woodbine Avenue between Glenwoods Avenue and Ravenshoe Road.
What amenities are contained within the MURC?
The MURC will include a six-lane 25-metre pool, a therapy pool, double gymnasium, indoor walking track, multi-use meeting and activity rooms, active living space and a Discovery Library branch.
Why is it located in Keswick?
Growth projections for Georgina show that by 2031, the Town's population will grow, with much of that growth occurring in Keswick. It is this growth that is supporting the need for additional facilities. Locating facilities as close as possible to the majority of users will optimize use and is more environmentally friendly by limiting travel distances.
Who decided what facilities would be included in the recreation complex?
In 2014, the Town conducted a Recreation Facility Needs Study. Extensive research was done which evaluated data including our socio-demographic profile, trends and best practices, facility inventory, and a utilization analysis. Public consultation was also a key component of this study with surveys, public information centres and discussions with key stakeholders including sports groups, hall boards, seniors, Council and staff. The public survey showed that 88 per cent of the respondents agreed that "The Town should consider developing a Recreation Centre in the Keswick area with components such as an indoor pool, arena, gymnasium, walking track and or community rooms." View the complete study here. Throughout 2018 and 2019, the Town will work to develop the concept plan. Public consultation and stakeholder engagement will be an important part of this phase.
Why don't we just build one facility like a pool?
History has taught us that single purpose or stand-alone facilities cost more to build and operate. That's why municipalities across Ontario are now building MURC's. They are the most responsive and cost effective way of meeting community recreational needs.
Isn't East Gwillimbury building a similar facility just down the road?
The Town of Georgina and East Gwillimbury have been consulting with each other on their respective plans for their new recreation facilities to ensure decisions are not made in isolation. The Town of East Gwillimbury is planning for a Health and Active Living Plaza (HALP) which will be built once their population reaches 40,000 residents.
Why isn't there an ice pad included in the MURC design?
The 2014 Recreation Facility Needs Study determined that the Town has an adequate supply of ice pads in the community for our planned population. When the Town does reach a size that requires an additional ice pad, the study recommended that the Sutton arena be twinned (add another pad). Twin ice pads operate more efficiently than single pads.
What is the cost of the library?
In 2018, Council directed staff to review, in collaboration with public input, the proposed 10,000-square-foot library within the MURC at an estimated cost of $4 to $4.5 million based on a square footage cost of $400 to $450. Once the MURC architect team is hired for the project, the team and staff will host a visioning session with stakeholders to further refine the program and size requirements for the MURC, including the library. Coming out of that there are likely to be a few options related to the library size and potential shared spaces for consideration by the Town. Only once the design is developed will there be a more accurate idea of what the portion of the entire MURC project budget is directly attributable to the Library.
Why does Georgina need another library branch? Why not expand the Keswick branch?
In 2016, the Georgina Public Library Board commissioned a library services and facilities study to guide the development of the library over the next 10 years. Based on professional standards, the consultants identified a lack of 15,000 square feet of library space to meet the present and growing needs of our community. The Library Board Strategic Plan identified the requirement for a branch in the rapidly growing area of south Keswick. The library board settled on a 10,000-square-foot branch with additional space shared with the Town's Recreation and Culture Department. The MURC project provides an opportunity to address this shortcoming in service levels.
Most new public libraries are being built as part of a community hub rather than stand-alone buildings. These designs have proved to be more cost effective to build and operate, more convenient for residents, and allow for shared space for a variety of activities. It is not feasible or cost effective to expand the existing Keswick branch and the new library will offer new library services that will complement the services offered in the north Keswick branch. The focus will be on digital literacy and community programming space. The library will also meet the need for more children's programming space and services, which are in increasing demand.
What services will the new library branch offer?
The new library will offer the following services:
Children and young adult collection and programming
Popular adult fiction and DVD collection
Quiet and group study space for students of seven schools within walking distance to the new location as well as distance-learning students
Comfortable seating for parents waiting for their children at swimming lessons and other sports
Programming and performance space for library and community events
Meeting rooms for community groups
Digital skills training lab to learn new computer and research skills
Digital media lab including a green screen for video production and editing together with digital recording capabilities
MakerSpace with 3D printer and other hands-on technologies
Will the MURC create more jobs?
Yes. The Town is one of Georgina's largest employers. The MURC will require full-time, part-time, seasonal and contract staff who are committed to serving our residents.
That's great! If you do we think others will also. Please send your questions to buildinggeorgina@georgina.ca so we can provide you with the answer.
What does the MURC stand for?
The MURC is an acronym for Multi-use Recreation Complex.
Council reports and presentations
June 23, 2021
Council report
Multi-use Recreation Complex construction services

(3.13 MB)

June 23, 2021
Presentation
Multi-use Recreation Complex presentation

(5.55 MB)

June 23, 2021
Council resolutions
Council resolutions

(82.19 KB)

Nov. 27, 2019
Presentation
Multi-use Recreation Complex Council Presentation

(32.07 MB)

Nov. 27, 2019
Council report
Multi-use Recreation Complex schematic design reveal

(337.41 KB)

Sept. 25, 2019
Council report
Multi-use Recreation Complex concept design

(480.94 KB)

Sept. 25, 2019
Presentation
Concept designs

(1.38 MB)

May 8, 2019
Council report
YMCA-GTA partnership options

(2.42 MB)

May 1, 2019
Council report
Award of contract for architect

(297.96 KB)

May 1, 2019
Presentation
Perkins + Will presentation

(12.78 MB)

Sept. 12, 2018
Council report
Award of contract for project management services

(183.81 KB)

Aug. 15, 2018
Council report
Endorsement of steering committee for Civic Centre and MURC projects

(300.21 KB)

March 2, 2018
Agenda/Minutes
Agenda, minutes, presentation, archived broadcast
Sept 20, 2017
Council report
Expression of interest results and land status update

(56.66 KB)

July 19, 2017
Council report
Land assessment and project update

(31.14 KB)

Apr. 26, 2017
Council report
Land requirements

(30.48 KB)

Apr. 26, 2017
Council report
West Park update

(42.03 KB)

Jan. 27, 2017
Council report
Hemson DC Background Study Report

(1.58 MB)

Jan. 10, 2017
Presentation
MURC update

(145.21 KB)

July 5, 2016
Presentation
MURC report update

(394.15 KB)

June 15, 2016
Council report
MURC update

(52.58 KB)

Sept. 9, 2015
Council report
MURC partnership analysis update

(22.39 KB)

May 14, 2014
Council report
Recreation facility needs study

(5.32 MB)

May 14, 2014
Council report
Facility needs study final report

(31.48 KB)

May 14, 2014
Presentation
Recreation facility needs study

(751.54 KB)
2019 Project Steering Committee -
Updated Project Steering Committee (145.84 KB)
MURC site concept -
Four hectare future sports field (101.5 KB)
MURC site concept -
Four hectare Civic Centre (92.95 KB)
MURC site concept -
Ten hectare future sports field (101.48 KB)