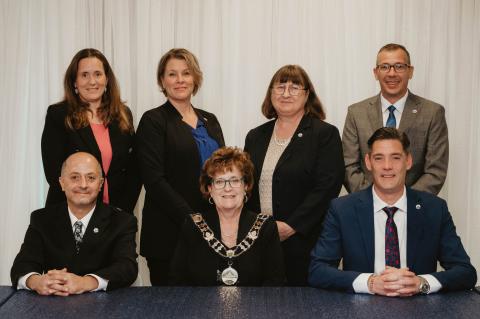 The governing body of the Town of Georgina is Town Council, guided by provincial legislation, who establish policies by resolutions and bylaws. Town Council meetings are open to the public and can be viewed online. Town staff are responsible for the implementation and administration of those policies.
The Mayor and Regional Councillor represent the interests of all Georgina residents at the regional level in addition to the municipal level.
Mayor's Message
Keeping residents informed on Town matters is a key priority for Council. Our corporate website is one of the many tools we have in place to provide information to residents, businesses and visitors.
Whether you are a resident seeking information on program registration, garbage collection or local events, we hope that you will find what you are looking for with ease.  If you don't live here, but are considering visiting us for pleasure or business, we are certain that both your online and in-person visit will be a positive one. We have introduced several features that will allow you to find what you are looking for, report problems in Georgina and apply for permits and licences. Our chat functionality is available 24/7 to answer any questions you may have.
Georgina is blessed to be situated on the shores of Lake Simcoe with 52 kilometres of beautiful shorelines, plus the Maskinonge River, Black River and Pefferlaw River.  With numerous beautiful beaches and parks, Georgina is a favourite summer destination for those looking to get away and relax. In the winter, you can enjoy world-renowned ice fishing, snowmobiling trails, as well as our outdoor and indoor skating rinks. But of course one of our favourite jewels is the ROC – 'York Region's Adventure Headquarters' offering up winter fun including tubing, snowboarding, and tobogganing followed by a crackling fire in the chalet after a day of fun. You can find information on all of these great things that make up Georgina right here on this site.
Thank you for taking the time to visit!
- Mayor Margaret Quirk
Code of Conduct
The purpose and intent of the Code of Conduct is to establish standards of conduct for Members of Council, local boards and committees in the individual conduct of their official duties. The Code of Conduct was adopted by Georgina Council on Nov. 7, 2018.
Want more information?
If you wish to make an appointment with the Mayor or a Member of Council, contact the Executive Assistant to the CAO by emailing edonnelly@georgina.ca or by telephone at 905-476-4301, ext. 2376.