Follow us on Twitter @georginafire
Georgina Fire and Rescue Services
The mission of Georgina Fire and Rescue Services is to provide the utmost professional and competent service through its commitment to quality and excellence in the community for residents and visitors.
Georgina Fire and Rescue Services provides a range of services to residents and visitors in the Town of Georgina, including:
fire suppression
medical aid response
motor vehicle accident response
hazardous material response
enforcement of the Ontario Fire Code
investigation of the causes of fires
Our services and mandate are outlined in the Establishing and Regulating By-law. The department runs as a composite department with three fire stations that provide 24-7 protection to residents.
Smoke alarms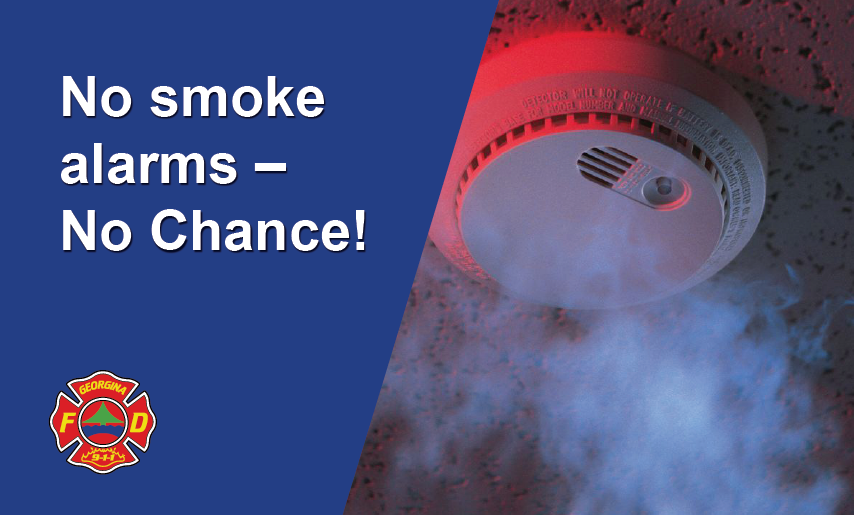 Ensure your home has working smoke alarms on every level and outside all sleeping areas. It's the law. Test your alarms every month by pressing the test button. If it does not operate, change the battery or replace the device. Smoke alarms don't last forever. They expire every 10 years. Look on the side or back of the device for a manufacture date.
Installing new alarms in your home? Consider installing interconnected smoke alarms. When one sounds they all sound. This gives you and your family more time to escape in a fire.
Daylight Saving Time begins on March 12, 2023. This is the perfect time to change the batteries in your smoke and carbon monoxide (CO) alarms. Remember to change the batteries in all of your homes' alarms when you change your clocks this month. Only working alarms save lives.
Candles
Candles are one of the leading causes of fires. Never leave a burning candle unattended. Burning candles can start a fire. Always blow out candles before leaving a room, leaving the house or going to bed.
Most candle fires start when things that can burn are too close to the candle. Keep candles at least 30 centimetres (12 inches) from anything that can burn
Make a safe choice and consider using battery-operated flameless candles, which can look, smell and feel like real candles.
Thin ice/flooding
As the temperature begins to rise, the ice begins to melt and ice fishing season comes to an end. Make sure you know the condition of the ice before you go out and take into consideration the recent changes the weather may have had on the ice. Remember no ice is safe ice.
Watch for open bodies of water and ice flows as these are sure signs the ice is not safe and should be avoided. Anytime you are near water, ensure you wear a certified flotation device.
Stay away from moving water and avoid already flooded areas. Cold water temperatures and slippery or unstable streams and riverbanks make these areas particularly dangerous.
Municipal water is safe and treated, but in the event of flooding, follow public service announcements about the water supply. If your water comes from a well and has been contaminated with flood waters, do not use the water for cooking, drinking or bathing. For more information on flooding, visit the flooding webpage. 
What3Words
What3Words is a mobile phone app that can help Georgina Fire and Rescue Services get to you sooner. If you're lost or need emergency assistance, use the free What3Words app to find the three words for your location, then give them to the emergency services over the phone. This way, emergency responders will know your exact location. Before your next adventure, download the app from Google Play or Apple App Store.
Burn Permits

Applications available online
Fire and Rescue Services staff

1 Fire Chief
2 Deputy Fire Chiefs
2 Administrative Assistants
2 Public Educator/Fire Prevention Inspectors
1 Fire Prevention Officer
1 Training Officer
40 Full-time Firefighters
60 Volunteer Firefighters
Contact information

Headquarters/main office 

Keswick Fire Hall (Station 1-4)
165 the Queensway S.
Keswick, ON, L4P 3S9
Phone:           905-476-2332
Fax:               905-476-7740
Email:  georginafire@georgina.ca

Sutton Fire Hall (Station 1-6)
37 Snooks Rd.
Sutton, ON

Pefferlaw Fire Hall (Station 1-8)
270 Pefferlaw Rd.
Pefferlaw, ON