Georgina Fire and Rescue Services
The mission of Georgina Fire and Rescue Services is to provide the utmost professional and competent service through its commitment to quality and excellence in the community for residents and visitors.
Georgina Fire and Rescue Services provides a range of services to residents and visitors in the Town of Georgina including:
fire suppression
medical aid response
motor vehicle accident response
hazardous material response
enforcement of the Ontario Fire Code
investigation of the causes of fires
Our services and mandate are outlined in the Establishing and Regulating By-law. The department runs as a composite department with three fire stations that provide 24-7 protection to residents.
Georgina Fire and Rescue Services open house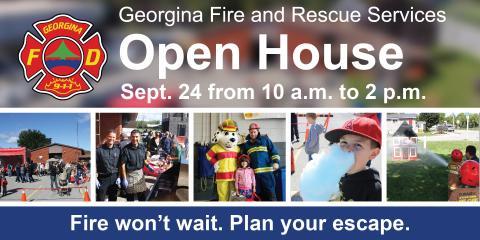 In a fire, every second counts. Fire education isn't just for school children – teenagers, adults and older adults are all at risk in a fire. It's important for everyone to plan and practise a home fire escape plan. Everyone needs to be prepared in advance, so they know what to do when the smoke alarm sounds. The 2022 theme for Fire Prevention Week (Oct. 9-15) is Fire Won't Wait. Plan Your Escape.
To kick off fire prevention week, Georgina and Fire Rescue Services is holding its annual Open House on Saturday, Sept. 24 at the Sutton fire station located at 37 Snooks Rd. Come out between 10 a.m. and 2 p.m. for some fun fire safety activities, a bouncy castle and a free barbecue. Firefighters will be conducting an auto-extrication demonstration at 12:30 p.m.
It is important that everyone have a home fire escape plan in case of a fire. Create a plan and practise it with your entire household. Look for two ways out of every room if possible that lead to an outdoor meeting place. A home fire escape plan should identify all possible exits including doors and windows. This is the time to ensure they work. Choose a meeting place outside, a safe distance from your home. A tree, streetlight or a neighbour's home are all good choices. In case of fire, everyone should go directly to this meeting place to be accounted for. Call 911 from your meeting place.
Get out and stay out. Never re-enter a burning building.
As part of your plan, ensure you have working smoke alarms on every level of your home and outside all sleeping areas. Install CO alarms outside of all sleeping areas. Test alarms monthly by pressing the test button and change the batteries at least once a year. Alarms expire so check your alarms and look for a manufacture date or expiration date. Smoke alarms expire every 10 years and CO alarms expire in five to seven years.
What3Words
What3Words is a mobile phone app that can help Georgina Fire and Rescue Services get to you sooner. If you're lost or need emergency assistance, use the free What3Words app to find the three words for your location, then give them to the emergency services over the phone. This way, emergency responders will know your exact location. Before your next adventure, download the app from Google Play or Apple App Store.
Burn Permits

Applications available online
Fire and Rescue Services staff

1 Fire Chief
2 Deputy Fire Chiefs
2 Administrative Assistants
2 Public Educator/Fire Prevention Inspectors
1 Fire Prevention Officer
1 Training Officer
40 Full-time Firefighters
60 Volunteer Firefighters
Contact information

Headquarters/main office 

Keswick Fire Hall (Station 1-4)
165 the Queensway S.
Keswick, ON, L4P 3S9
Phone:           905-476-2332
Fax:               905-476-7740
Email:  georginafire@georgina.ca

Sutton Fire Hall (Station 1-6)
37 Snooks Rd.
Sutton, ON

Pefferlaw Fire Hall (Station 1-8)
270 Pefferlaw Rd.
Pefferlaw, ON