Georgina Fire and Rescue Services
The mission of Georgina Fire and Rescue Services is to provide the utmost professional and competent service through its commitment to quality and excellence in the community for residents and visitors.
Georgina Fire and Rescue Services provides a range of services to residents and visitors in the Town of Georgina including:
fire suppression
medical aid response
motor vehicle accident response
hazardous material response
ice/water rescue response
fire prevention
public education
enforcement of the Ontario Fire Code
investigation of the causes of fires
Our services and mandate are outlined in the Establishing and Regulating By-law. The department runs as a composite department with three fire stations that provide 24-7 protection to residents.
Home fire safety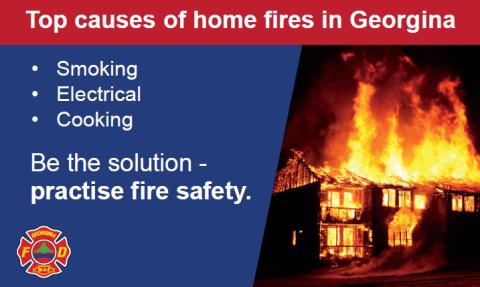 Did you know the three leading causes of fire in Georgina are smoking, electrical and cooking?
Be the solution – practise fire safety.
If you smoke, do it outside and not in the garage. Discarded cigarette butts can smolder for hours. Always make sure you completely extinguish them before throwing them away. Use deep metal ashtrays filled with water or sand to put out your butts. Do not use a plant pot as they often contain peat moss, shredded wood and bark that can easily ignite.
Frayed, nicked or pinched electrical cords are a fire hazard. Inspect your cords to ensure the insulation is not damaged. Overloaded electrical outlets can lead to a fire. Use power bars with surge protection to prevent a fire in your home. Extension cords are to be used as a temporary measure. If you need more outlets, have more installed by a certified electrician.
Always stay in the kitchen if you are cooking – unattended cooking can cause fires. Before you start cooking, clear the area around your stove to prevent a fire from occurring. Don't let yourself get distracted by the TV or phone, and always be alert when cooking. Alcohol is often a factor in cooking fire fatalities. If you have consumed alcohol, drugs or certain types of medication consider ordering in instead of entering the kitchen.
What3Words
What3Words is a mobile phone app that can help Georgina Fire and Rescue Services get to you sooner. If you're lost or need emergency assistance, use the free What3Words app to find the three words for your location, then give them to the emergency services over the phone. This way, emergency responders will know your exact location. Before your next adventure, download the app from Google Play or Apple App Store.
Open-air burn permits - applications available online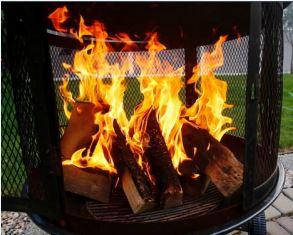 Fire and Rescue Services staff
1 Fire Chief
2 Deputy Fire Chiefs
2 Administrative Assistants
2 Public Educator/Fire Prevention Inspectors
1 Fire Prevention Officer
1 Training Officer
40 Full-time Firefighters
60 Volunteer Firefighters
Contact information
Headquarters/main office 
Keswick Fire Hall (Station 1-4)
165 the Queensway S.
Keswick, ON, L4P 3S9
Phone:           905-476-2332
Fax:               905-476-7740
Email:  georginafire@georgina.ca
Sutton Fire Hall (Station 1-6)
37 Snooks Rd.
Sutton, ON
Pefferlaw Fire Hall (Station 1-8)
270 Pefferlaw Rd.
Pefferlaw, ON
Community partners
We also support our community partners in their efforts to ensure the health and welfare of our citizens are in good hands.
York Region Paramedic Service 
York Region Public Health
York Region Police (YRP) Services