Mission and services provided

The mission of Georgina Fire and Rescue Services is to provide the utmost professional and competent service through its commitment to quality and excellence in the community for residents and visitors.

Georgina Fire and Rescue Services provides a range of services to residents and visitors in the Town of Georgina, including:

fire suppression
medical aid response
motor vehicle accident response
hazardous material response
enforcement of the Ontario Fire Code
investigation of the causes of fires

Our services and mandate are outlined in the Establishing and Regulating By-law. The department runs as a composite department with three fire stations that provide 24-7 protection to residents.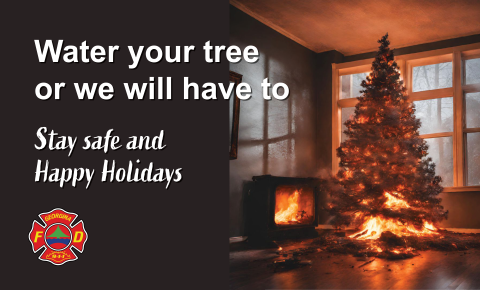 Holiday safety
The holiday season is here and there is no better time to ensure your home is safe for the holidays. Install smoke alarms on every level of your home and outside all sleeping areas. Ensure you have working carbon monoxide (CO) alarms outside all sleeping areas. Test alarms every month. Before a holiday party, test alarms to ensure you and your guests are safe.
Create a home escape plan with two ways out and a meeting place at the front of your home. Practise your plan and review it with your family and guests over the holidays.
Unattended cooking is the #1 cause of fires. Always stay in the kitchen when you are cooking to avoid cooking fires. Keep your stove top clear of any combustibles and don't cook if you are sleepy or have consumed alcohol. Be alert if you are going to cook.
Falling needles are your tree's way of telling you it's drying out and is a fire waiting to happen. Water your tree daily. Be careful of heat sources near the tree including furnace vents and non-LED lights.
Lit cigarettes are Ontario's number one cause of fatal fires. This season, smoke outside and use deep, sturdy ashtrays. Never flick your butt – a lit butt might be the difference between a holiday to remember and a holiday you'll never forget.
We want to wish you a happy and safe holiday season.
Home Inspection Tool (HIT)

Home Inspection Tool (HIT)

HIT a home run with fire safety and our new Home Inspection Tool app. The Fire Safety Home Self-inspection Checklist can protect you from the majority of residential fires and injuries. Fires can occur despite our best efforts, so the best way to ensure you and your family/housemates are protected from fire is to plan ahead.

Click the link below or scan the QR Code with your smartphone today to ensure you and your family are prepared for a fire emergency. Thank you for helping make your home safe for all occupants by completing our Home Inspection Tool app.
Open house

On Saturday, Sept. 23, 2023, Georgina Fire and Rescue will hosting its annual Fire Prevention Week Open House from 10 a.m. to 2 p.m. Come on by to meet our firefighters and community partners as well as take part in some interactive activities. We will also be having a free BBQ and live demonstrations. The open house will be at the Sutton Fire Station located at 37 Snooks Rd. Visit georgina.ca/events for more details.

Fire Prevention Week runs from Oct. 8 to Oct. 14, 2023. This year's Fire Prevention Week campaign is "Cooking safety starts with YOU. Pay attention to fire prevention." This theme works to educate everyone about simple but important actions they can take to keep themselves and those around them safer when cooking.
What3Words
What3Words is a mobile phone app that can help Georgina Fire and Rescue Services get to you sooner. If you're lost or need emergency assistance, use the free What3Words app to find the three words for your location, then give them to the emergency services over the phone. This way, emergency responders will know your exact location. Before your next adventure, download the app from Google Play or Apple App Store.
Burn Permits

Applications available online
Fire and Rescue Services staff

1 Fire Chief
2 Deputy Fire Chiefs
2 Administrative Assistants
2 Public Educator/Fire Prevention Inspectors
1 Fire Prevention Officer
1 Training Officer
40 Full-time Firefighters
60 Volunteer Firefighters
Contact information

Headquarters/main office 

Keswick Fire Hall (Station 1-4)
165 the Queensway S.
Keswick, ON, L4P 3S9
Phone:           905-476-2332
Fax:               905-476-7740
Email:  georginafire@georgina.ca

Sutton Fire Hall (Station 1-6)
37 Snooks Rd.
Sutton, ON

Pefferlaw Fire Hall (Station 1-8)
270 Pefferlaw Rd.
Pefferlaw, ON
Additional links and resources

There are many other resources and websites you can go to for information about fire and life safety.