The Town of Georgina is working closely with public health authorities monitoring the global situation with the COVID-19 pandemic. On March 19, Mayor Margaret Quirk issued a declaration of emergency in response to COVID-19.
Province-wide saty-at-home order: Effective Thursday, Jan. 14, 2021at 12:01 a.m., the province isued a stay-at-home order requiring everyone to remain at home with exceptions for essential purposes, such as going to the grocery store or pharmacy, accessing health care services, for exercise or for essential work. Outdoor organized public gatherings and social gatherings will now be restricted to a limit of five people with limited exceptions.
Enforcement: As part of York Regional Council's commitment to keep communities safe from COVID-19, members of the COVID-19 enforcement task force are increasing inspection activity to ensure compliance. Learn more.
Customer service: The Civic Centre remains closed, however, you can call customer service from Monday to Friday, 8:30 a.m. to 4:30 p.m. For after-hours emergencies about animal control, roads, water or wastewater, call 905-476-4301 and follow the prompts to reach after-hours on-call services. Municipal Law Enforcement can be reached at 905-476-4301, ext. 2279 or 2272. For after hours and weekends, call ext. 2281. If your call goes to voicemail, leave a detailed message including the date, time and location of the violation, and an officer will investigate.
To find out what's open and what's closed, visit the What's Open/Closed page.
To learn more about new protocols at the Georgina Leisure Pool, visit georgina.ca/swim.
Have questions? Visit our FAQs page.
Have questions about beaches and waterfront parks? Visit georgina.ca/beaches for the FAQs.
Town responds to latest COVID-19 measures by province - Jan. 14, 2021
Georgina to enter Grey-Lockdown Level Dec. 14 - Dec. 12, 2020
Town responds to modified stage 2 COVID-19 restrictions - Oct. 16, 2020
Town announces more reopening plans - Sept. 8, 2020
Town to reopen De La Salle Park July 20 with reduced capacity - July 15, 2020
Beaches and waterfront parks to stay closed - June 24, 2020
Town reopens more amenities for public use - June 18, 2020
Mayor Margaret Quirk statement on reopening - June 16, 2020
Mayor Margaret Quirk statement on COVID-19 - Aprll 16, 2020
The Town encourages everyone to follow its communications channels, including this webpage and social media, for updates – Facebook, Twitter and Instagram.
Have you seen our Jack videos?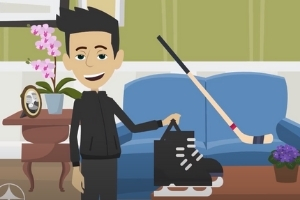 Sept. 17 –
Jack goes to the Leisure Pool and Ice Palace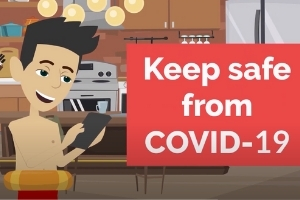 July 17 –
Jack goes to the beach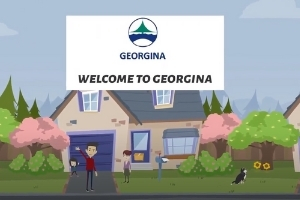 May 1 –
Find out what Jack is doing to help stop the spread of COVID-19
Fire chief verbal update to Council - Sept. 9, 2020
Fire chief briefing, Emergency Operations Centre - April 22, 2020
Office of the CAO, corporate update - April 22, 2020
All inquiries related to COVID-19 should be directed to York Region Health Connection at 1-800-361-5653, Monday to Sunday, 8:30 a.m. to 4:30 p.m.
For more information on COVID-19, visit York Region Public Health's website at york.ca/covid19, the Province of Ontario's website at ontario.ca/coronavirus or for information on travel and self-isolating, visit the Government of Canada's website at canada.ca/coronavirus.
York Region COVID-19 Voluntary Isolation Centre makes self-isolation easier
York Region has a COVID-19 Voluntary Isolation Centre, available to residents facing complex barriers who may otherwise be unable to safely self-isolate away from others in their household. There is no cost for eligible residents to stay at the centre and the stay is entirely voluntary. The centre is funded by the provincial government and operated by the Canadian Red Cross on York Region's behalf.
Self-assessment
Use the Ministry of Health's online self-assessment tool to help determine if you need to seek care.
If you're having difficulty breathing or experiencing other severe symptoms, call 911. Always call your health care provider before visiting.
Know the difference – face masks versus face coverings
The best way to stop the spread of COVID-19 is to stay at home and avoid close contact with others outside of your household. If you do need to leave your home for an essential trip, such as picking up groceries or attending a medical appointment, you may be wondering if you should wear a face covering. Wearing a face covering is an additional measure you can take to protect others around you, especially in situations where physical distancing guidelines cannot be maintained. Learn more at york.ca/covid19.
The Town has taken precautionary measures regarding facilities, programs and services.
Closures and cancellations
Civic Centre: The Civic Centre remains closed to the public. Customer service can be reached Monday to Friday, 8:30 a.m. to 4:30 p.m. For after-hours emergencies about animal control, roads, water or wastewater, call 905-476-4301 and follow the prompts to reach after-hours on-call services. Municipal Law Enforcement can be reached at at 905-476-4301, ext. 2279 or 2272. For after hours and weekends, call ext. 2281. If your call goes to voicemail, leave a detailed message including the date, time and location of the violation, and an officer will investigate.
Georgina Fire and Rescue Services: The Fire Services administrative building at 165 The Queensway South is closed to the public.
Stephen Leacock Theatre, Sutton Arena, Georgina Pioneer Village and Club 55 locations: Closed until further notice.
De La Salle Park and beach reopened on July 20, 2020 with reduced capacity and new restrictions. The beach and park is open from 8 a.m. to 8 p.m. daily with Town staff on site to monitor and control the number of users permitted in the park. On weekends, police officers are on site to monitor and support Town Staff where needed and assist with traffic control. Painted social circles have been placed on the park grass directing visitors to maintain physical distancing. Once the park has reached the maximum safe capacity, further access into the park will be restricted. For more information, visit georgina.ca/beaches. 
Effective June 8, all parks were reopened for public use while adhering to physical distancing guidelines and provincial restrictions on gatherings. Also reopened in June were tennis/pickleball courts, basketball courts and sports fields for non-organized play, skateboard parks, splash pads, ROC beach volleyball courts, ROC baseball diamonds and soccer fields. 
Sports fields and basketball and tennis/pickleball courts are for individual use or for use by people in the same household. Maintaining physical distancing continues to be a requirement as well as not having gatherings of more than 10 people outside the same household. New signage is being rolled out to serve as a reminder on how these public spaces are to be used safely and responsibly.
Progress continues with the reopening of waterfront and neighbourhood parks, playgrounds and parking lots with all remaining areas to be reopened by Oct. 9, 2020.
The Town has reopened its trails under the following guidelines:
• Practise physical distancing of at least two metres
• Leash and pick up after your dog
• Take your litter home with you
To learn more about designated trails, visit georgina.ca/trails.
Following five months of bag tag exemption, the Town will be resuming its regular pick-up allowance. Effective Sept. 28, the Town will return to one bag/item of garbage every other week with the option of an additional four bags with tags per garbage pickup. Bag tags can be purchased a number of locations in Georgina. A list of vendors can be found online. Used latex gloves and masks go in the garbage lined with a plastic bag. They do not go in recycling. If you have any questions, contact customer service at 905-476-4301 or GFL at 1-866-421-5625.
Residents who need to replace a blue box or green bin are no longer be able to do so at the Green for Life (GFL) office in Aurora. GFL will continue to deliver replacement bins to residents. They can be reached at 1-866-421-5625 or by email at WasteLine@gflenv.com. The customer service line is open Monday to Friday from 7 a.m. to 7 p.m.
The Town is holding virtual Council meetings. The Town is using the ZOOM platform for the meetings, in addition to the usual broadcast through the Town's live internet streaming tool. Public participation by phone is now available. A pre-registration form is required to be submitted to the Clerks Division by noon the day before the meeting. The form can be found at georgina.ca/CouncilMeetings. Rogers TV Georgina will also broadcast the meetings.
The Town of Georgina has resumed regular parking enforcement. The suspension of the three-hour on-street parking restrictions has been lifted and the three-hour limit is being enforced. Everyone is encouraged to be aware of parking signage that indicates no parking or stopping. Remember – lanes need to be clear to allow safe road access for emergency vehicles. To learn more about parking regulations, visit georgina.ca/parking.
Winter parking restrictions are now in effect until April 15, meaning no parking between the hours of 2 a.m. and 7 a.m. Visit georgina.ca/snow to learn more.
Noise By-law allows for 24-hour service delivery
The Town's Noise By-law currently meets the requirement to allow all service or delivery trucks, who are providing essential services to continue with their business outside of current daytime hours. This will ensure all essential services and stores will be stocked for our community.
Property taxes and water/sewer bills
Council previously provided a 30-day waive of penalty and interest associated with the April 27,2020 instalment of the interim tax bill. The Mayor and CAO have now decided to extend this to 90 days. There will be no penalty added in May, June or July for an unpaid April 27 instalment. Residents who have an outstanding amount before April 27 will still incur penalty and interest on those amounts. As well, 2019 water/wastewater rates will remain in place for the duration of 2020. The Town encourages everyone who is able to pay their property taxes on time to continue to do so, as this will allow the municipality to provide relief programs to those in need. Visit georgina.ca/taxes to learn about property tax payment options. 
Outdoor park programs: The Town of Georgina  has announced a series of new summer and fall outdoor programming coming to a local park near you. With the safety of participants and staff in mind, and continuous guidance from York Region Public Health along with the federal and provincial governments, the Town has created a number of programs for people of all ages that will get you healthy, active and moving again. To learn more, visit georgina.ca/programs.
Recreation at Home
During this unprecedented time, the Town of Georgina's Recreation and Culture Department is here for you. Are you looking for something fun to keep you and your family engaged while at home? Visit georgina.ca/RecreationAtHome for activities such as games, craft ideas and more. New content will be added regularly. 
Memberships: All memberships have been put on hold and the length of the membership will be extended.
Short-term rental accommodations
By provincial order, every person who provides short-term rentals in rental accommodations shall ensure that any rentals booked after April 4, 2020 are only provided to individuals who are in need of housing during the emergency period. In the Town of Georgina, Short-Term Rental Accommodations (STRA) require a licence that is issued by the Town. Licensed STRAs are allowed to operate under the conditions of the provincial order. Report violations of the provincial order and unlicensed STRAs to the Municipal Law Enforcement Division by calling 905-476-4301, ext. 2272 or 2279. After hours and on weekends, call ext. 2281. If your call is not answered, leave a detailed message. 
Georgina Animal Shelter and Adoption Centre
The Georgina Animal Shelter and Adoption Centre continues to monitor the developing situation as animal shelters cope with the COVID-19 pandemic. The community is reminded that having a plan in place for their pets is critical. Individuals who become sick or require hospitalization will need to have someone to take care of their animals. 
The Georgina Animal Shelter and Adoption Centre appreciates donations, however, at this time we ask residents to hold on to them for now until the centre re-opens to the public. Any donations left at the door will have to be disposed of as it is not known who or where they came from. Visit georgina.ca/AnimalServices for more. 
Building inspections and building services
Building, fire and by-law staff will not be doing any interior inspections of any occupied buildings in Georgina until further notice. Emergency inspections will be evaluated on a case-by-case basis.
Building Division activity during the COVID-19 Pandemic
After careful consideration and to reduce the risk to Town of Georgina residents, customers and employees during the global COVID-19 pandemic, the Town's Building Division is amending some permit services and suspending most interior permit inspections until further notice. Be advised, this procedural change may be amended as events and decisions occur. Visit the building and renovating webpage for more information. 
The COVID-19 pandemic is affecting businesses locally and globally.
Staff are committed to providing residents and businesses with trusted and timely updates that you need to support your business.
Georgina's Economic Development team is working remotely and will continue to support businesses during this difficult time by email at ed@georgina.ca. To ask questions over the phone, contact Karyn Stone, Manager of Economic Development and Tourism, at 905-476-4301, ext. 2312.
Our business page includes news and updates from all three levels of government.
The De La Salle playground has reopened along with Vista Park, Pefferlaw Lions Hall and Community Park, Egypt Hall Park, Udora Hall Park and Virginia Park.
As of Aug. 7, 2020 the following additional playgrounds were reopened –
Lorne Street Park
Sheppard Avenue Park
Highcastle Park
Civic Centre Park
Wyndham Park
Kin Park
Sutton Multi-use Park
West Park
Thornlodge Park
Const. Garrett Styles Park
Hollywood Park
Bayview Park
Richmond Park (2 locations)
Watson Park
To ensure everyone stays safe while at the playground, visitors are reminded of the following:
Use at own risk
Wash your hands before and after your visit
Stay home if not feeling well
Playground equipment is not sanitized