Town of Georgina's Field to Table Farm Tour
Since 2018, the Town of Georgina has celebrated more than 200 years of agriculture by showcasing local farms that sell directly to consumers in late summer. Farmers in the area open their doors to the public, providing tours, samples and showcasing what they have to offer. The first self-guided tour through Georgina's landscape was a great success, with approximately 1,200 visitors overall at seven locations. In 2020, the event pivoted online, consisting of behind-the-scenes access to farms where viewers enjoyed tours, educational experiences and interacted live with our farmers.
"We liked that there were a variety of stops and that the flow was steady, but not overwhelming. The pamphlets, maps and signs were well done. All the participants were really positive and excited about the event. We reached new customers and met some really lovely people." - Cloverhill Flowers
Learn about our Field to Table farmers.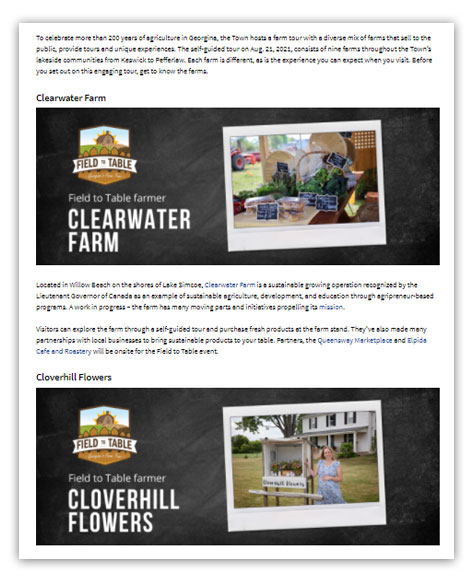 Download (4.75 MB) the 2021 tour map.
Agri-Tourism Quick Links
Learn more about what the Town is doing to support sustainable agriculture in Georgina.
---