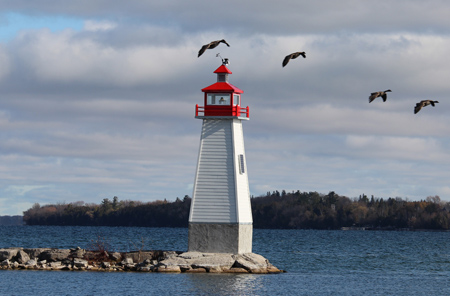 In 2018, Council authorized staff to work with a local resident on a proposal to design and construct a lighthouse at Jackson's Point Harbour to replace the previous day marker. The lighthouse is intended to celebrate the spirit of Jackson's Point and the harbour as a destination on Lake Simcoe.
The goal of the lighthouse is to provide improved safety to boaters approaching from Lake Simcoe, and commemorate a lasting impression and legacy to the people of Jackson's Point, who invested in their community to make it a better place for generations to come.
Throughout 2018, Town staff worked to develop the concept for the lighthouse to ensure the structure would meet or exceed applicable standards.
About the lighthouse
Complete height upon completion: 30 feet or nine metres
Lighthouse base: nine feet by nine feet
The original beacon will be replaced with a modern, more technologically advanced and efficient LED light source.
The amber beacon will be approximately 30 feet above water level and will be enclosed, programmable and visible up to five nautical miles.
The proposed LED light source can be controlled directionally and black panels will be added to eliminate light pollution to neighbouring residents.
Operating power will be provided by solar-powered batteries. Manual operation assistance is not required as the lighthouse will be fully autonomous and automatic.
Construction began in the late summer of 2019.
Anticipated completion December 2019.
The lighthouse project was an initiative proposed to the Town by resident Daryl Urquhart. He has covered all costs associated with the project – estimated at $160,000. The Town will assume full ownership and management of the asset once completed.