Please Slow Down Signs
The safety of all road users in the Town of Georgina is a priority. Residents can help remind the public to be aware of pedestrians by displaying "Please Slow Down" lawn signs on private property. These signs are a way of making motorists more aware of their speed as they travel in residential areas.
These signs are available free of cost to residents who are interested. One sign per household while quantities last. The signs can be picked up at the Civic Centre, and the library branches in Keswick and Pefferlaw. 
When can I display the sign?

Between April 1 and Nov. 30 of each year.
Where can I place the sign?

On or in front of your own property (one sign per house, or two if on a corner lot).
Be set back a minimum of 0.6 metres (two feet) from curb or edge of the roadway on your property.
If there is a sidewalk, must be back 0.6 metres from the edge of the sidewalk.
Signs are not to be placed on a boulevard.
At least three metres away from any fire hydrant.

Note: Signs must not obstruct the traveled portion of the roadway, median, sidewalk, bicycle path or multi-use trail, and must not obstruct sight lines for pedestrians, cyclists or drivers.

Signs must not be placed on public or municipal property, including roadway medians or islands, in a drainage ditch, or anywhere that blocks access to, or operation of, culverts, bridges and overpasses.
How do I install it

Signs must be inserted into the ground using the wire frame provided only.

Signs must be installed as-is without added illumination or the use of reflective tape.

They may not be attached to a building, structure, post, pole, tree or bush.
What do I do if it wears out or gets damaged?

Over time, lawn signs can degrade, dislodge or otherwise fall into a state of disrepair. Ensure your lawn sign is safely maintained, and replace it if damaged or unsafe.

Lawn signs that are unsafe or require relocation for any reason may be removed or relocated to a more suitable location at any time by the property owner or Town staff.
Are these signs enforceable

No, York Regional Police will not enforce the sign.
Road Watch Program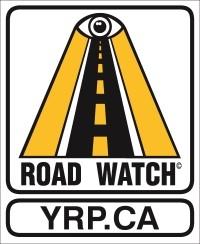 Georgina Road Watch is a partnership among citizens, police, the Ontario Ministry of Transportation and the Town of Georgina to fight aggressive driving in Georgina.
What is the history of the Road Watch Program?

The Road Watch Program began in Caledon in August 1993 with immense support from the citizens and businesses throughout their community. In the spring of 1997, King Township became the first municipality in York Region to implement the program. In 2001, following the receipt of a grant from the Province of Ontario, the Georgina Road Watch Program began operating.
Why was the program implemented?

The Road Watch program was implemented to address many traffic concerns and incidents relating to aggressive driving, which occur throughout Georgina on a regular basis.
What is the Road Watch program?

The Road Watch Program is an initiative between the Georgina Road Watch Committee, York Regional Police, the Ministry of Transportation, the Corporation of the Town of Georgina, and the citizens and business community of Georgina to address aggressive driving. The program integrates three components essential to modifying driver attitudes that include education, awareness and enforcement. Road Watch signs have been erected on roads entering Georgina.
How does the program work?

Aggressive driving can be reported through a Road Watch Report online. Please ensure that you include as much of the requested information as possible, especially the license plate information. Your name, address and telephone number must be included in the report. All information is kept in strict confidence.

By following the procedures of the Citizen Report Form, your report will receive the attention required. Your report will be addressed by the police, as follows:

First time offenders will receive a letter from the police, warning them that a complaint has been lodge against them and that this information will be kept on file
A second offence will merit a second letter or a telephone call from the police, depending on the severity of the incident
A subsequent offence will result in a personal visit from the police and possible charges
If the incident is of an urgent nature, please call the police immediately.
What is aggressive driving?

Aggressive driving consists of speeding, following too close, failure to yield right-of-way, improper lane changes, improper passing, disobeying traffic sings and signals and impaired driving.
You can do your part by setting an example of good driving habits. Our roads can be safe if we all take responsibility.

Driving is a privilege. If you are a thrill seeker, think twice before you put your foot on the accelerator. Selfish moments of speeding and aggressive driving can have a permanent effect on someone's life. Slow down... Stay in control.
Traffic Calming
Flexible traffic bollards have been placed in areas throughout the community as part of the Town's traffic calming measures. Speed and volume studies completed by the Town and York Regional Police support the installation locations.
Traffic calming flexible bollards

Bollards create physical and visual barriers that direct and help to slow down vehicles. Because it narrows the street, it alters driver behaviour. It is a simple, effective and inexpensive way to reduce speed of vehicles by 5 to 20 km/h without slowing down emergency vehicles.

If struck by a vehicle, the bollard folds upon impact and then returns to its initial positio.
Locations

Wexford Drive by the Ice Palace
Carrick Avenue - in front of WJ Public School
Lake Drive East 839-893A – 4 sets
Biscayne Boulevard – in front of RL Graham Public School and Keswick High School – 4 sets
Thornlodge Drive – Lake Simcoe Public School Zone – 3 sets   
Joe Dales Drive – from the Queensway to Simcoe landing walking trail – 3 sets
Glenwoods Avenue – between the Queensway and the lake – 2 sets
John Link Avenue – before entering the subdivision
George Burrows Parkway – in front of children's park
Lake Drive South 393, 491, 592, & 692 – 4 sets
Riverview Beach Road – between Highway 48 and the lake
Laurendale Avenue – between Joe Dales Drive and Brecken Drive
Clovelly Cove – East of Lake Ridge Road
Queen Street – between King Street and Black River Road
Woodriver Bend – between Southwood Road and Golfview Crescent  
Highcastle Avenue – St. Thomas Aquinas Catholic School Zone  
The Queensway North – in front of Keswick Public School
Roselm Avenue – Fairwood Public School Zone
Why use the flexible bollards?

Benefits compared to speed bumps:

Inexpensive.
Doesn't slow down emergency vehicles.
Reduces noise.
Doesn't create any vibrations.
Reduces air pollution and energy consumption.
Doesn't hinder snow removal since signs are removed during winter