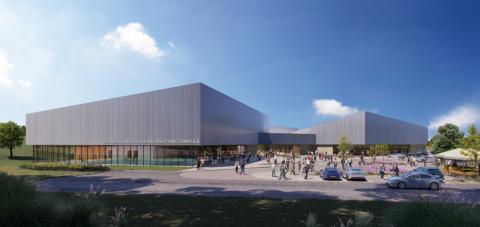 Overview
In 2014, the Town of Georgina conducted a Recreation Facility Needs Study. Through the research and public consultation of this study, the town approved in principle a Multi-use Recreation Complex (MURC). The MURC will include a six-lane 25-metre pool, therapy pool, double gymnasium, indoor walking track, multi-use meeting/activity rooms, active living space and a Discovery Library branch.
The MURC will be located on the west side of Woodbine Avenue between Glenwoods Avenue and Ravenshoe Road. The concept plan for the facility was developed with public and stakeholder consultation. 
A sustainability strategy was developed with consultants that was appropriate for the project and meet the Town objectives.
Advertorial - March 16, 2023
Sponsorship
The MURC is available for multiple naming rights and corporate sponsorship opportunities.
Contact Patti White, Manager of Recreation Services, at pwhite@georgina.ca, to express your interest in the MURC facility today.
Sustainability
For the MURC, a sustainability strategy was developed with consultants that were appropriate for the project and meet the Town's objectives.
LEED Gold certification is being pursued for the MURC. LEED Gold was determined to represent both a high level of performance and an achievable goal within the budget of the project.
The project uses materials with high solar reflectance index (SRI) values to minimize effects on microclimates and wildlife habitats. This includes a light-coloured roof that helps to mitigate the Heat Island Effect. This contributes to a cooler environment and decreases the heat being absorbed by the building in the summer. This is one of the LEED credits that have already been approved for the project.  
Optimize Energy Performance is another credit, which includes a high R-value building envelop which was also awarded. The R-Value for our roof is R-40, and there are other aspects of the construction like thermal breaks and other insulation that are contributing to these. This also ties in with six innovation credits with a focus on indoor air quality and better building energy performance with a total annual site energy reduction of 28 per cent and a reduction in annual Green House Gas emissions of 38 per cent from the baseline. The building has been designed to achieve a 40 per cent reduction in indoor potable water use and utilizes the metering of energy sources.
The project utilizes air-side heat recovery to precondition ventilation air (both heating and cooling) from exhaust air, thus reducing energy consumption. 
Finally, the project includes five biophilic design strategies to connect occupants with nature through the built environment. The design team focused on these and other credits to achieve the highest possible sustainable goals for this project within its budget and timeline.