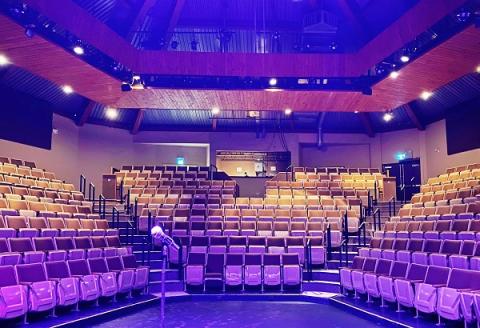 About the Theatre
Named after one of the English-speaking world's best-known humorists, The Stephen Leacock Theatre opened in 1985 and has been igniting the imagination and tickling the fancy in the world of stage ever since. Famous for its up close and personal ambience, the 295-seat theatre presents a varied schedule of local, national and international entertainment. Located in Keswick, just off the Queensway, the theatre offers the best in musical guests, comedy acts and stage productions.
Committed to providing quality entertainment at affordable prices, the theatre continues to host several highly acclaimed performers ever since its first stage acts more than 25 years ago. Serena Ryder, Rita MacNeil, Jeff Healey and Jully Black are some of the many talented performers to grace the stage. Enthusiastic theatre-goers return time and again for repeat appearances by favourite entertainers, such as the Yuk Yuk's comedy troupe. Home to the Queensville Players, the theatre has always been a strong supporter of home-grown talent. Copacabana, the Adventures of Tom Sawyer, Confessions of a Dirty Blonde and the Wizard of Oz are some of the productions that have received rave reviews from audiences.
Summer Camps
Why not sign the kids up for summer theatre or film camp, which are available from July to August. Budding thespians and filmmakers can learn the art of acting and filmmaking from seasoned professionals. Each camp culminates in a final performance or screening for friends and family.
Show Information and Tickets
The Stephen Leacock Theatre is a worthwhile trip for an evening of great music, comedic performances or a musical. For showtimes, tickets, or information on upcoming shows, visit the Town of Georgina's TixHub.You can also contact the Box Office at 905-476-0193 to check events or order tickets.