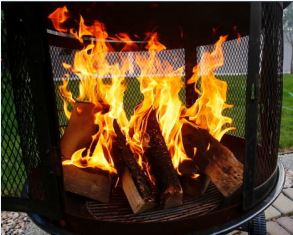 The Town of Georgina and the Georgina Fire and Emergency Services allow resident to have fires for a variety of reasons
Online Applications
Online applications are available for open-air and agricultural burn permits.
The Town has launched a test pilot of an online application process for the 2022 permit applications.
If you have any issues with the online application, you can also download or print the
Open Air Burn Permit (269.51 KB) application form and email the completed form.
Residents can have recreational fires to roast marshmallows and hot dogs. These fires must be no larger than 2' x 2', and be at least 23' away from anything that can burn as well as property lines. Make sure you read the Quick Reference Guide and By-law before having a fire. Permits are not required to have a recreational fire.
Open-air burning is any fire set outside, other than cooking food on a small grill. Having campfires larger than 2' x 2', burning brush/branches/stumps, or burn barrel fires are examples of open air burning. These fires cannot be larger than 4' x 4' and must be at least 23' away from anything that can burn as well as property lines.
You can apply for a burn permit through our online application.
Agricultural Burn Permits
If you are a farmer, you may qualify for an Agricultural Burn Permit. Call 905-476-2332 x 0 for more information.
You can apply for a burn permit through our online application.
Open-air Burn Permit Fee:  $35 for the calendar year.
Processing of either permit could take up to eight (8) business days. 
How can I pay for my permit?
We accept payment through credit card or cheque.
Credit card through the online application
The Town of Georgina has partnered with Stripe, a third-party service provider, to bring you the convenience of paying online. This service fee is $1.35 and must be paid by the applicant.
Credit card by phone
We accept Visa and MasterCard over the phone. You can call Customer Service from Monday to Friday from 8:30 a.m. to 4:30 p.m. When calling please provide your applicant number as reference.
Telephone:
(905) 476-4301
(905) 722-6516
(705) 437-2210
Cheque
You can mail in (or drop off) a cheque to the Town of Georgina.
If you are applying through the application. Please include your applicant number in the note line. Your application number can be found at the top right hand corner of the application, or in the confirmation email.
If you are applying with the pdf form, please include property address in the note line.
Mailing Address
Town of Georgina
26557 Civic Centre Road, R.R. #2
Keswick, Ontario L4P 3G1
Cash
The Civic Centre and Fire Halls are closed to visitors due to the current COVID-19 protocols. We are not accepting cash payments at this time. Please do not put cash in the drop box.
Remember to activate your permit
Each time you are burning, you must call in to activate your permit, leaving your permit number and the date you are burning.
Call 905-476-2332 or 905-476-5167 (press 1).
Whether you are having a recreational campfire or open-air burn on your property, you could be invoiced/ fined if you are:
Burning without a permit
Burning anything other than natural wood/brush
Burning too close to combustibles/ property boundaries and roadways
Not following other sections of the by-law
The Ontario Fire Code (2.4.4.4.) prohibits all open-air burning except for small confined cooking fires and other fires that have been "approved" by the Fire Chief.
Remember, if Georgina Fire and Rescue Services are called and no authorization has been obtained, you are liable to pay service fees for the response and/or charged under the Open-air Burning By-law 2016-0019. The Fees and Services By-law provides further information. 
Regardless of authorization, the person that starts the fire is responsible for any effect that fire or smoke may have on neighbouring persons or property.