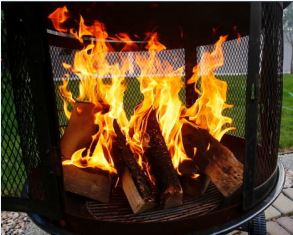 Campfires
Residents can have recreational fires to roast marshmallows and hot dogs. These fires must be no larger than 2' x 2', and be at least 23' away from anything that can burn as well as property lines. Make sure you read the Quick Reference Guide and By-law before having a fire. Permits are not required to have a recreational fire.
Open-air Burn Permits
Open-air burning is considered to be any fire set outside, other than cooking food on a small grill. Having campfires larger than 2' x 2', burning brush/branches/stumps, or burn barrel fires are examples of open air burning. These fires cannot be larger than 4' x 4' and must be at least 23' away from anything that can burn as well as property lines.
Agricultural Burn Permits
If you are a farmer, you may qualify for an Agricultural Burn Permit. Call 905-476-2332 x 0 for more information.
Online applications are available for open-air and agricultural burn permits
Step 1:
Download or print the Open Air Burn Permit

(269.51 KB)

application form.
Step 2:
Complete the application.
Step 3:
Email the completed form. (Note: If you are not the owner, you must attach a letter of authorization from the property owner).
Step 4:
Customer Service will contact you for payment for the permit. At this time, only Visa and MasterCard will be the accepted form of payment.
Step 5:
Customer Service will forward a copy of the approved permit to you by email.
Open-air Burn Permit Fee: $35 for the calendar year.
Processing of either permit could take up to eight (8) business days.
Remember to activate your permit
Each time you are burning, you must call in to activate your permit, leaving your permit number and the date you are burning.
Call 905-476-2332 or 905-476-5167 (press 1).
If you do not have a permit, you cannot burn.
Learn before you burn
Whether you are having a recreational campfire or open-air burn on your property, you could be invoiced/ fined if you are:
Burning without a permit
Burning anything other than natural wood/brush
Burning too close to combustibles/ property boundaries and roadways
Not following other sections of the by-law
The Ontario Fire Code (2.4.4.4.) prohibits all open-air burning except for small confined cooking fires and other fires that have been "approved" by the Fire Chief.
Remember, if Georgina Fire and Rescue Services are called and no authorization has been obtained, you are liable to pay service fees for the response and/or charged under the Open-air Burning By-law 2016-0019. The Fees and Services By-law provides further information.
Regardless of authorization, the person that starts the fire is responsible for any effect that fire or smoke may have on neighbouring persons or property.