What is a stormwater management pond?
A stormwater management pond, or a SWM pond, is an engineered structure created to treat storm water. The surface water from rain and snowmelt drains into storm sewers and is collected into stormwater ponds. These ponds are designed to improve the overall quality of stormwater runoff before it is released into creeks, streams and lakes. The ponds also control the flooding and erosion in the downstream water courses.
The water level in SWM ponds fluctuates up and down constantly depending on the amount of water that is draining into the facility. The slow release of the water through a controlled outlet is what provides the water quality treatment (sediment capture) and the flood/erosion protection by flow attenuation.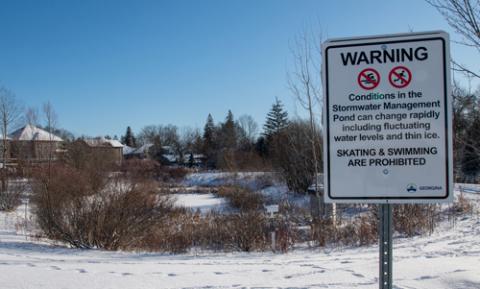 Not for public use 
Due to the constant flow of water and unpredictable water levels, stormwater ponds are not safe for recreational use. This includes swimming, wading and boating in the ponds during the summer months. The bottoms of the ponds are soft and anyone that enters, including pets, may quickly become stuck.
In the winter, ice forms in unstable conditions and is often very thin. Skating or walking on the ice is strictly prohibited at all times.
Instead, residents can enjoy local public skating options at the Georgina Ice Palace, Sutton Arena, Pefferlaw Ice Pad (PIP) or the ROC (weather permitting). For more information and hours of operation, visit georgina.ca/skating. 
Protect the environment and Lake Simcoe
Stormwater management ponds are typically constructed on parks or adjacent to creeks and rivers. The ponds can form an important part of the natural open spaces providing habitat for turtles, frogs, fish and migratory birds.
Everything that enters the storm sewer will eventually end up in the SWM pond and will eventually make its way to the water courses, creeks and lakes. Do not pour oil or chemicals into a storm sewer grate, drain or catch basin. Do not deposit pet waste into storm sewers.  Clean-up after pets in your own yard and place the waste in your green bin for collection.