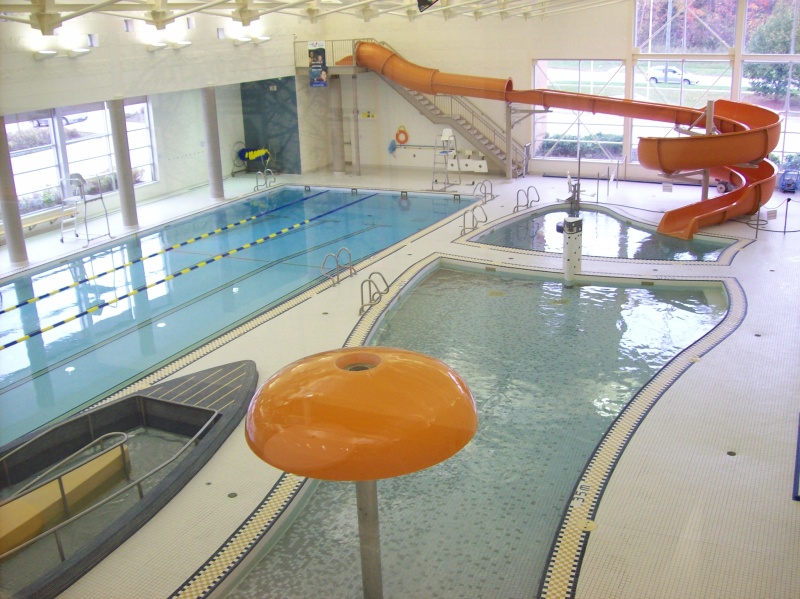 This fully accessible aquatic facility hosts three swimming pools including a lap, leisure and therapy pool along with a slide. Recreational drop-in programs, swim lessons, aquatic leadership, registered programs and party rentals are available. Come and make a splash at the Georgina Leisure Pool!
Visit the Aquatics page for current programs, drop-in and aquafitness schedule information. Reopening on Sept. 27 for pre-registered drop-in programs - Registration now open
Public swimming
Public swimming is returning to the Georgina Leisure pool for the month of November.
Fridays, starting Nov. 5, from 5 p.m. to 6 p.m. and 6:15 p.m. to 7:15 p.m.
Sundays, starting Nov. 7 from 1:15 p.m. to 2:15 p.m.
Registration opens on Oct. 25 at 8:30 a.m.
Pre-registration is required and capacity is limited to 20 participants per session.
Wristband Policy will be in affect:
Red Wrist Band (5 years of age or younger - 1 Guardian : 2 Children) - Must be accompanied with a guardian (16+). Must be within arms reach and directly supervised.
Yellow Wrist Band (6-9 years of age - 1 Guardian : 3 Children) - Must swim with a guardian who is responsible for direct supervision and must be in the water. Non-Swimmers must remain within arms reach.
Green Wrist Band (10+years of age) - May swim without a parent or guardian accompaniment
Deep End Test - All swimmers are subject to a screening before entering the deep area. Test: Swim two (2) widths of the lap pool comfortably, tread water or support their body at the surface for at leas one minute.
Volunteering opportunities are available on the Town's Careers webpage.
Visit the Recreation Program Registration website, contact the Georgina Leisure Pool by email at pool@georgina.ca or call 905-722-1429 for additional information.
COVID-19 protocols
We ask all patrons to familiarize themselves with the new safety procedures and protocols as the provincial regulations have changed and will be enforced. The Town is implementing these procedures in accordance with provincial regulations and York Region Public Health letter of instruction. Please be patient and respectful with Town staff as they begin implementing these new provincial and York Region Public Health protocols.
The Town will be complying to the provincial regulations and require all patrons entering the Georgina Leisure Pool to show proof of identification and of being fully vaccinated against COVID-19 at the point of entry. Limited exemptions will be made as allowed by the Government of Ontario's regulations.
To enter the facility, the following are required:

Ontario Ministry of Health COVID-19 vaccination certificate or other government-issued vaccination record.
Acceptable identification which includes name and birthdate – photo ID is not required. (Examples include birth certificate, citizenship card, driver's licence or other government-issued ID.)

​Who needs to show proof of vaccination at Town recreation facilities?

Anyone 12 years and older

As per provincial regulations, anyone who refuses to share the required information will not be allowed to enter Town recreation facilities.
Masks must be worn inside the facility at all times. The mask can only be removed when participating in the swimming activity.
Complete a COVID-19 self-assessment prior to entering the facility, if you answer yes to any of the questions, please stay home.
Use hand sanitizer upon entry of the building.
Registration is required for all entry into the facility (i.e. drop-in lane swims, Aquafit etc). More information to follow.
Children participating in and all pre-school and swim levels up to Swim Kids 4 must be accompanied by a parent/guardian who remains in the water for the duration of the class.
Waterslide will remain closed until further notice.
Participants may bring their own fitness equipment to lane swim only, subject to approval upon entry.
Come and make a splash at the Georgina Leisure Pool!
Anyone who has been fully vaccinated and requires a vaccine certificate can print or download it from the
provincial booking portal
. To help residents who may not have access to a printer,
Georgina Public Library
is providing free printing service for customers requiring a paper copy of a vaccination certificate.