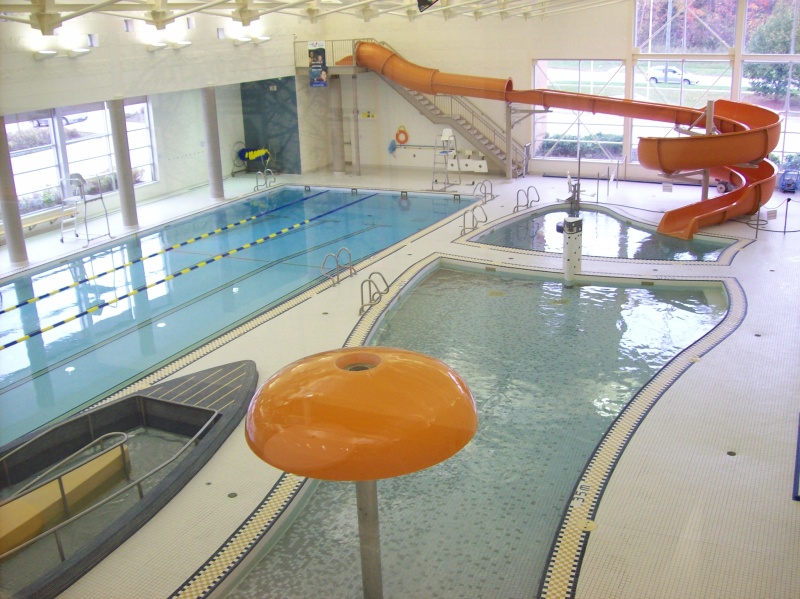 This fully accessible aquatic facility hosts three swimming pools including a lap, leisure and therapy pool along with a slide. Recreational drop-in programs, swim lessons, aquatic leadership, registered programs and party rentals are available. Come and make a splash at the Georgina Leisure Pool!
Visit the Aquatics page for current programs, drop-in and aquafitness schedule information.
Volunteering opportunities are available on the Town's Careers webpage.
Visit the Recreation Program Registration website, contact the Georgina Leisure Pool by email at pool@georgina.ca or call 905-722-1429 for additional information.
The re-opening of municipal recreation facilities and programs are currently being reviewed for the potential for a phased in re-open of various sites. No timelines have been determined or established at this time.
Visit georgina.ca/recreation for more information.
COVID-19 protocols
New safety procedures and protocols have been put in place. We ask all patrons to familiarize themselves with the new protocols as the rules have changed and will be enforced.
Masks must be worn inside the facility at all time. The mask can only be removed when participating in the swimming activity.
Pools will operate at a reduced capacity limit (i.e. bather load)
Physical distancing of two metres must be maintained at all times
Complete a COVID-19 self-assessment prior to entering the facility, if you answer yes to any of the questions, please stay home.
Use hand sanitizer upon entry of the building.
Permit holders and participants will be permitted to enter the building 15 minutes prior to their rental/program/lesson/activity.
Permit holders and participants must exit within 15 minutes after the completion of their rental/program/lesson/activity.
Registration is required for all entry into the facility (i.e. drop-in lane swims, Aquafit etc). More information to follow.
No spectators will be permitted into the facility at this point in time.
Family change room is entry point for pool.
Male and female change room designated as exit point.
Patrons are to arrive in a bathing suit and may change out of a wet bathing suit prior to leaving the facility.
Chairs will be placed two metres apart on deck for personal belongings.
At this time, showers are not permitted for use. Use of the change rooms are only allowed after a lesson, program or activity. All participants must leave within 15 minutes.
Swimmers are encouraged to shower at home before and after swimming.
Waterslide will remain closed until further notice.