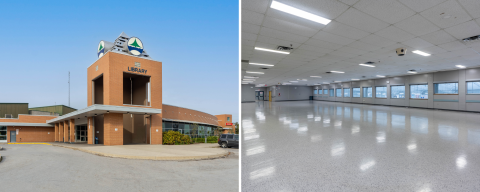 Hall
Capacity: 250
Tables: 45 Rectangle - 0 Round
Chairs: 250
Size: 3200 sq ft – 40' X 80'
Includes: Full Kitchen, Separate Bar Area, Dishwasher, Small Freezer, Pots, and Pans.
Multi-Purpose Room 
Capacity: 45
Size: 900 sq ft
Includes: Private washroom access, tables and chairs available
Gym Program Room
Capacity: 20
Includes: Tables and chairs available
Note: close in proximity to gymnasium, this space is not suitable for formal meetings. For formal meeting room space at the Geogina Ice Palace, please use the multi-purpose room.
Hall Photos
Multi-purpose Room Photos
Fees
Payment of $53 (tax included) is due at the time of booking. 
The Society of Composers, Authors and Music Publishers of Canada (SOCAN), under federal licence, is authorized to charge a fee under Tariff 8 - Receptions, Conventions, Assemblies for using prerecorded music. The Socan Fee with dancing is $90.12. These fees are in addition to the hall rates and are subject to HST
Georgina Ice Palace Hall Rates
Events with alcohol - $83.65 +HST per hour
Events with alcohol 2 p.m. to 2 a.m. - $501.88 +HST
Events without alcohol - $50.73 +HST per hour
Commercial or For Profit events - $124.77 +HST per hour
Commercial or For Profit events 12 hours - $1,247.78 +HST
Tournament - $249.55 per day
Visit the Facility Booking Availability website, contact Service Georgina at 905-476-4301 ext. 3001 or by email at info@georgina.ca to book.
Storage Rooms

We rent various sizes of storage and office space at the Georgina Ice Palace at competitive prices to local non-profit organizations. 

To inquire, contact the Community Services Department by email at or at 905-476-4301.