Georgina Fire and Rescue Services' mission is to provide the utmost professional and competent service through our commitment to quality and excellence in the community for our citizens and visitors
We provide a range of services to residents and visitors in the Town of Georgina. These include fire suppression, medical aid response, motor vehicle accident response, hazardous material response, ice/water rescue response and fire prevention/public education.
We also provide public education, enforcement of the Ontario Fire Code and investigate causes of fires. Our services and mandate are outlined in our Establishing and Regulating By-Law.
Our department runs as a composite department with three fire stations that provide 24-7 protection to our residents.
Change your clocks, change your batteries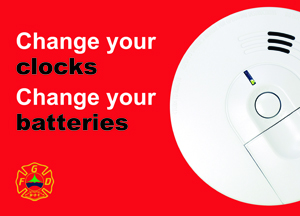 A reminder to all residents that when you change the clocks on Nov. 1, 2020, change the batteries in your smoke and carbon monoxide alarms. Remember, only working smoke and carbon monoxide alarms save lives.
Carbon Monoxide (CO) Awareness Week – Nov. 1-7, 2020

Carbon monoxide (CO) is known as the silent killer because it is a colourless, tasteless and odourless gas that can be deadly. It's produced when fuels such as propane, gasoline, natural gas, heating oil or wood do not burn completely in fuel-burning appliances and devices such as furnaces, fireplaces, hot water heaters, stoves, barbeques, portable heaters and generators or vehicles.
Be aware of the hazard. CO is a highly poisonous gas. It's non-irritating and displaces oxygen in the body, causing the nervous system to completely shut down.
Eliminate CO at the source. Have a TSSA-certified fuel technician inspect and maintain your fuel-burning appliances every year. It is the smart thing to do and it is your responsibility.
Install certified CO alarms in your home. If your house has a fuel-burning appliance or an attached garage, you must have a working CO alarm adjacent to each sleeping area. Remember to regularly test the alarm(s) and replace batteries.
Know the symptoms of CO poisoning. They are like the flu – nausea, headache, burning eyes, confusion and drowsiness – except there is no fever. If they appear, immediately get everyone, including pets, outside to fresh air and call 911 or your local fire department.
Educate yourself. For more information on CO safety, visit cosafety.ca
Virtual Home Safe Home - chance to win
You could win a pizza dinner by checking out our Virtual Home Safe Home program!
Open-air Burn Permits - Applications available online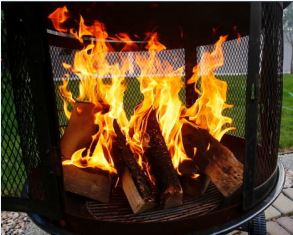 Fire and Emergency Services staff
1 Fire Chief
1 Deputy Fire Chief
2 Administrative Assistant
2 Public Educator/Fire Prevention Inspectors
1 Fire Prevention Officer
1 Training Officer
40 Full-time Firefighters
60 Volunteer Firefighters
Contact information
Headquarters/Main office
Keswick Fire Hall (Station 1-4)
165 The Queensway S.outh Keswick, ON, L4P 3S9 Phone: 905-476-2332 Fax: 905-476-7740 Email:
georginafire@georgina.ca

Sutton Fire Hall (Station 1-6)
37 Snooks Rd.
Sutton, ON
Pefferlaw Fire Hall (Station 1-8)
270 Pefferlaw Rd.
Pefferlaw, ON
Community partners
We also support our community partners in their efforts to ensure the health and welfare of our citizens are in good hands.
York Region Paramedic Service
York Region Public Health
York Region Police (YRP) Services