Georgina Fire and Rescue Services' mission is to provide the utmost professional and competent service through our commitment to quality and excellence in the community for our citizens and visitors
We provide a range of services to residents and visitors in the Town of Georgina. These include fire suppression, medical aid response, motor vehicle accident response, hazardous material response, ice/water rescue response and fire prevention/public education.
We also provide public education, enforcement of the Ontario Fire Code and investigate causes of fires. Our services and mandate are outlined in our Establishing and Regulating By-Law.
Our department runs as a composite department with three fire stations that provide 24-7 protection to our residents.

Plan Your Escape
If a fire occurred in your home tonight, would your family get out safety? You may have only seconds to safely escape your home. Create and practise a home fire escape plan with everyone in your household using the following tips.
Discuss with everyone in your home how each person will get out in a fire.
Know two ways out of each room, if possible
Determine who's going to help young children, older adults, people with disabilities or anyone else who needs help escaping
Choose a meeting place outside your home
Practise your plan
In the event of a real fire call 9-1-1 from outside the home
Get out, Stay out. Never re-enter a burning building
Test your smoke alarms every month
Every second counts. Fire and smoke travel quickly. Be ready and be outside when the firefighters arrive.
Virtual Home Safe Home - chance to win
You could win a pizza dinner by checking out our Virtual Home Safe Home program!
Open-air Burn Permits - Applications available online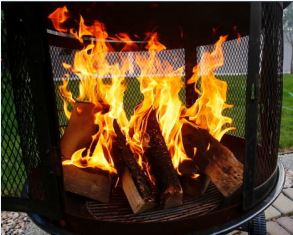 Fire and Emergency Services staff
1 Fire Chief
1 Deputy Fire Chief
2 Administrative Assistant
2 Public Educator/Fire Prevention Inspectors
1 Fire Prevention Officer
1 Training Officer
40 Full-time Firefighters
60 Volunteer Firefighters
Contact information
Headquarters/Main office
Keswick Fire Hall (Station 1-4)
165 The Queensway S.outh Keswick, ON, L4P 3S9 Phone: 905-476-2332 Fax: 905-476-7740 Email:
georginafire@georgina.ca

Sutton Fire Hall (Station 1-6)
37 Snooks Rd.
Sutton, ON
Pefferlaw Fire Hall (Station 1-8)
270 Pefferlaw Rd.
Pefferlaw, ON
Community partners
We also support our community partners in their efforts to ensure the health and welfare of our citizens are in good hands.
York Region Paramedic Service
York Region Public Health
York Region Police (YRP) Services