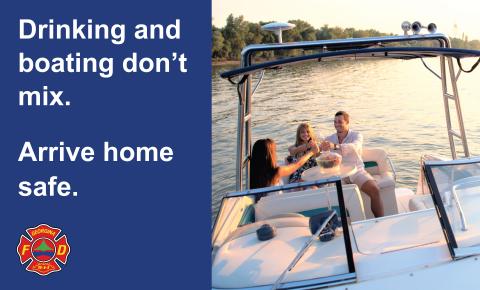 Let's have a safe and fun boating season. Before heading out on the lake, complete a pre-departure checklist. Ensure you have all the required safety equipment on your boat and check to see if it is in working order. Always check your life jackets for the expiry date, cuts and overall condition before you set sail. It is now the law to have a life jacket for every person on your boat.
Boat smart. Boat sober. There is no safe way to mix alcohol or drugs and boating, and it is against the law. Offer the driver and passengers non-alcoholic drink options while on your boat. Be alert anytime while operating a vehicle.
Always check the weather and wind conditions before you start your day on the water. Conditions can change quickly, especially on Lake Simcoe. While on your boat, turn on notifications for any incoming weather reports and be prepared to head back to shore at a moment's notice. In the case of an emergency, call 911.
Water safety plan
Create a water safety plan for any activities planned near water. Whether you are heading out in a boat, kayak, canoe or paddleboard, or simply swimming, having a plan will help ensure a safe and fun time for the whole family.
Use the buddy system – all water activities should be done in pairs
When near water, watch children closely
Not a strong swimmer? Consider wearing a lifejacket or using a floatation device
Be aware of water currents
Check weather conditions before heading out
Stay alert and sober around water and during water activities
In familiar and unfamiliar water, always enter feet first the first time to be sure of the water depth and be aware of any hazards.
Planning a boat trip? Create the plan with your entire group or family with a start point, destination and estimated duration of the trip. Provide your trip plan to a friend or loved one and check in with them throughout your trip
On a trip, carry a GPS and compass in the event you become lost
In the event of an emergency, call 911
For more great tips on water safety, visit Canadian Red Cross. For more boating safety information, visit the Government of Canada's Office of Boating Safety.