2024 Applications Open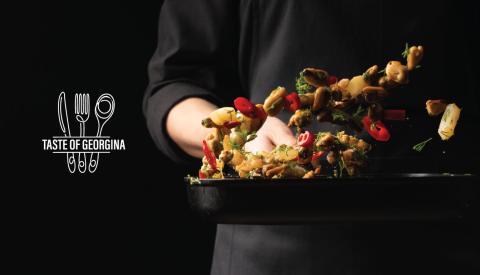 Taste of Georgina will run from February 23, 2024, to March 7, 2024, to celebrate and promote Georgina's diverse cuisines by profiling dining experiences at a range of prix fixe price points.
Taste of Georgina Objectives
Bolster the support for Georgina's restaurants during periods of reduced customer traffic.
Stimulate economic vitality within the local restaurant industry.
Commemorate the rich diversity of culinary offerings available in Georgina.
Program Overview
The program is free for restaurants that wish to meet the program requirements and participate in this event.
To participate, restaurants must provide a three-course prix fixe menu for lunch and/or dinner, available during their standard operating hours.
The prix fixe menu should encompass an appetizer or starter, a main course, and a dessert or non-alcoholic drink.
These prix fixe menus must be priced within the specified range of price categories offered by the program.
Contact
If you have any questions about this program, contact Cristina Liu at cliu@georgina.ca
2024 Taste of Georgina Application Form

Application Form

2024 Taste of Georgina Application Form

 

Eligibility

Eligible participants must:

be an existing, sit-in or take-out restaurant.
be located in the Town of Georgina.
possess a current York Region Green Proof of Public Health Inspection sign.
consent to adhere to the terms and conditions of participation, which encompass various aspects including, but not limited to, program requirements, prix fixe menu particulars, and the selection of a price point category.
demonstrate that the average price of a multi-course meal on the restaurant's regular lunch and/or dinner menu meets the minimum requirements as outlined in the following table:

Taste of Georgina Price Point Category 

Price Point Categories

Minimum Requirements for Regular Menu 

Average Price Point for a three-course meal

$20 Lunch 
$23 Lunch
$27 Lunch
$31 Lunch
$34 Lunch
$38 Lunch
$41 Lunch
$46 Lunch
$35 Dinner
$40 Dinner
$45 Dinner
$51 Dinner
$55 Dinner
$62 Dinner
$65 Dinner
$73 Dinner

Please note:

The average price of a three-course meal from the restaurant's regular menu should meet the minimum requirements to provide value during the promotional event. 
Applications will be reviewed and verified for accuracy to ensure the selected price point is lower than the average price of a three-course meal from their regular menu. It is expected that a minimum discount of 10% will provided through the prix fixe menu.
Once a submission is received and a restaurant is determined to have met all criteria, including the appropriate price point category based on their regular dinner menu, they will be notified of their eligibility and next steps, including registration for the upcoming promotions.

 

Deadline

By participating in the Taste of Georgina program, participants receive many promotional perks for their restaurant. The Town of Georgina's Economic Development and Tourism Division advertises this event in many traditional and modern marketing channels to increase awareness and promote the event.

Deadline 
Perks

Tier 1

November 30, 2023

Free listing in the official Town of Georgina Winter Tourism Guide

+ Tier 2 Perks

Tier 2

December 29, 2023

Free business spotlight on Georgina's Economic Development & Tourism Division social media channels

+ Tier 3 Perks

Tier 3

January 31, 2024

Free social media ads through Georgina's Economic Development & Tourism Division 

Free business listing and spotlight on georgina.ca

Free print ads through the Georgina's Economic Development & Tourism Division 

Free radio campaign through Georgina's Economic Development & Tourism Division 
2023 Participating Restaurants

 

Anchor Restaurant

26092 ON-48, Sutton

905-722-4102

Bailey's Homestead

90 Wexford Dr., Keswick

905-535-5200

Belvedere Cookhouse and Saloon

249 Pefferlaw Rd., Pefferlaw

705-437-1202

Drinkwaters at the Briars

55 Hedge Rd., Jackson's Point

1-800-465-2376

*Taste of Georgina menu offered between Feb. 25 and March 5.

EddyBee and Tootsie's MESSHALL Eatery

106 High St., Sutton

905-596-1111

Lake Simcoe Arms

21089 Dalton Rd., Sutton

905-722-5999

Ramada's Lakeview Restaurant

49 Lorne St., Jacksons Point

416-479-7727

Riveredge Restaurant

233 The Queensway S., Keswick

905-476-2222

Taps n' Tracks

281 Pefferlaw Rd., Pefferlaw

705-513-9511

The Mansion House

129 High St., Sutton West

905-722-8345