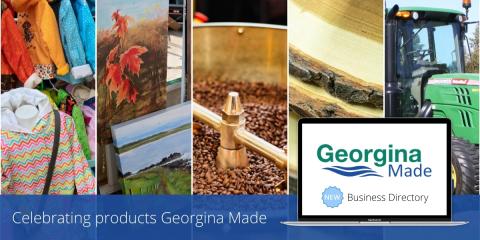 Business directory of businesses who make or sell products made in Georgina
Buying Georgina Made products supports local businesses and their employees – it grows the local economy, which feeds money back into the services residents of Georgina rely on, like schools, roads, and health care. 
To highlight the many makers, growers and manufacturers of products made in Georgina, the Town's Economic Development and Tourism office has created an online directory that provides an additional platform for businesses to feature their products online, giving more ways for residents and businesses to shop and support local. It also aims to foster an environment of collaboration between businesses as it will feature retailers who sell products.

FAQ

Q: Are there any costs associated with this program?

Participation is free for businesses that grow, make, produce or sell products made in the Town of Georgina. 

Q: How do I sign up for the program?

Fill in the

submission

form to be added to the directory. If approved, you will receive a portal login where you can add a description, social handles and upload product pictures. The external-facing directory will launch shortly after. For more information, email

kellis@georgina.ca

or call 905-476-4301.

Eligibility:

Artists who sell their creations (home-based included).
Agri-businesses who grow or raise farm-fresh products.
Businesses that manufacture products in Georgina.
Retail stores with a physical address that sell tangible products made in Georgina. 

Q: What are the benefits of being part of the Georgina Made program?

There are many benefits available to your business through the Georgina Made program.

Civic pride

We are proud to live in a community where you can shop, explore, stay and play. Each year, more visitors find out why Georgina is the gem of York Region, with over 52 km of Lake Simcoe shoreline, one of the top fishing destinations in Ontario, over 200 years of rich history and a vibrant, growing community. The Economic Development and Tourism office wants to also highlight Georgina's talented business community of growers, makers, artisans, and manufacturers that produce unique products and retailers that support locally made goods.

Collaboration opportunities

The Georgina Made webpage will be a one-stop-shop directory for businesses looking to collaborate and source local products online. If you are a business looking to source products made locally or you're a producer looking to sell your products in a local retail store, the Georgina Made directory will provide you with the resources you need to support locally made products and connect with like-minded individuals who can help your business grow. 

Marketing campaign

The Economic Development and Tourism office will be launching a campaign in 2021 to promote the Georgina Made directory and all participating businesses. This campaign will carry into 2023 and support the shop local movement. More information on marketing opportunities, such as decals, spotlights, free branding pieces, and much more, will be available through the private business portal for businesses.

Private portal

The private portal will allow business owners to update their public-facing profile on the Georgina Made dynamic directory and get access to exclusive marketing and co-op opportunities. The Economic Development and Tourism office promotes Georgina's business community internally and externally through social media, e-newsletters, video segments, traditional media agencies, regional and provincial partnerships and printed publications such as a Year in Review, bi-annual newsletter and the Discover Georgina guide.
Submit business to directory

Businesses that make, grow, produce or sell products made in Georgina are encouraged to fill out their information to be included in the directory.

Fill out this form to submit your business to the Georgina Made directory.
Learn about living, working and doing business in the Town of Georgina at choosegeorgina.ca.
---
Subscribe to our eNewsletter, which showcases economic development news, available properties, market opportunities and upcoming workshops or training.