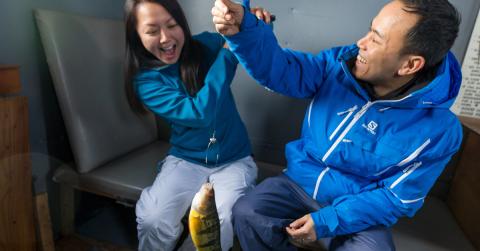 Fishing in Georgina
Many choose to come to Georgina for the array of fishing spots along 52 kilometres of Lake Simcoe shoreline and the short drive from Toronto. Whether you are one of the thousands of visiting anglers or a local Georgina resident, everything you need to enjoy this outdoor activity can be found in one of Georgina's lakeside communities. 
Ice fishing
With several well-established ice hut operators in Georgina, it makes it easy for families and others to try this great winter sport. For active hard-core ice anglers, the quality and quantity of fish available in Lake Simcoe brings them back year after year. For complete details on fishing rules and regulations, visit the province's Fishing page.
Ice hut operators 
Ice fishing and parking
If you are a visitor and looking for parking, the pay-and-display parking lots at North Gwillimbury, Willow Beach, De la Salle, Jackson's Point Harbour are open, and parking in those lots is free in the winter. While Holmes Point Parking is available to current resident parking pass holders, non-resident visitors may be subject to a nominal parking fee. There is also parking in south Keswick at Adeline Park and Young's Harbour. There is no parking allowed on most of Lake Drive and the surrounding streets. This is to allow access for emergency vehicles. Find out more about parking for ice fishing.
Open water fishing
Whether you want to fish by boat or land, you have many options in Georgina. You can make a day of it out on the water by renting a boat at one of Georgina's marinas throughout the Town's lakeside communities. To launch your boat, contact the marinas or visit a Town-operated location. If you prefer onshore fishing, you can cast your line at Sibbald Point Provincial Park or by the rivers that intersect with the area's trail systems. For a complete list of Georgina's parks that offer fishing, visit the Municipal Facilities and Amenities Map.
Expression of Interest for Fish Hut Operators

Expression of Interest for Fish Hut Operators to occupy a town lot are being accepted by e-mail to janthony@georgina.ca until October 31, 2022. The following items must be included:

Business Plan and History of Operations
Location Requested
Bid Amount
Confirmation of insurance

Agreements will be prepared for the period of December 1, 2022 – March 31, 2023
Submissions will be evaluated in early November and our office will reach out to you at that time with the results of your submission.
Below are some links to help you navigate your visit: