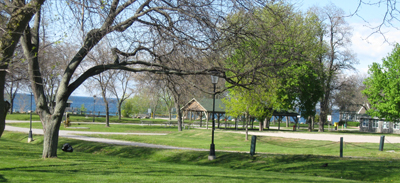 As per the provincial announcement on April 16 and amended on April 17, 2021, parks, beaches and playgrounds are open. On May 20, 2021, the province announced its Roadmap to Reopen plan. The announcement noted municipalities could reopen some amenities starting Saturday, May 22 at 12:01 a.m. As a result, tennis/pickleball courts, basketball courts, sports fields, skateboard parks, soccer fields and baseball diamonds will be reopening. Visit what's open/closed for status updates.
Georgina has many parks and open spaces for every age group. Georgina's park system includes ball diamonds, soccer fields, artificial turf, tennis and basketball courts, accessible play apparatus for all ages, outdoor skateboard parks, bike park, challenge course, splash pad, outdoor ice rinks (weather permitting), tubing, skiing and terrain park and other amenities such as volleyball courts, picnic shelters, beaches, washrooms and tables.
Bicycle safety and registration
Cycling is a safe, fun and environmentally friendly way to get around – as long as motorists and cyclists share the road, obey all laws under the Highway Traffic Act and ensure they are equipped with appropriate safety equipment.
York Regional Police bike safety
postcard (912.76 KB)
To learn more, visit yrp.ca/bikesafety.
Playground improvements
The Town of Georgina will be completing improvements at a number of parks in 2021. Full or partial closures of these parks will be required for construction work to be completed. The Town thanks residents for their patience while these playground improvements are completed.