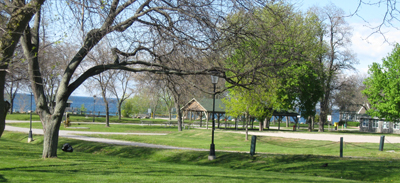 COVID-19 has prompted the closure of parks and facilities across the municipality. Visit what's open/closed for status updates.
Georgina has many parks and open spaces for every age group. Georgina's park system includes ball diamonds, soccer fields, artificial turf, tennis and basketball courts, accessible play apparatus for all ages, outdoor skateboard parks, bike park, challenge course, splash pad, outdoor ice rinks (weather permitting), tubing, skiing and terrain park and other amenities such as volleyball courts, picnic shelters, beaches, washrooms and tables.
Playground Replacement Program at Young's Harbour Park, Glenwoods Beach Park, the ROC and Sutton Multi-use Facility
The Town is making improvements to two waterfront parks, Young's Harbour Park and Glenwoods Beach Park, including playground replacements. Work is planned to start this fall and carry over into spring 2021. The parks will be closed until the work is completed.
The ROC and Sutton Multi-use Facility will have new playground equipment installed as part of the same program. The work at the ROC will be started this fall and will be complete spring 2021. The Sutton Multi-use Facility playground will be replaced in the summer of 2021, when school is on summer break.
Gwendolyn Park playground
Due to structural issues and safety concerns, the Gwendolyn Park playground will be closed to the public until further notice.
Thornlodge Park
The main structure has been closed to protect the public in order to perform steel welding repairs.
For more information about Town parks, facilities and sports fields, visit the Facilities and Facility Rentals page. Alternatively, you can contact customer service by email at info@georgina.ca or by calling 905-476-4301 for additional information.