Club 55's and older adult recreation program information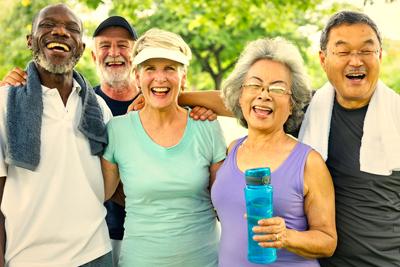 Club 55's are Georgina's older adult-focused active programming centres. You can find current program opportunities for older adults on the Registration page.
Don't miss a thing! Sign up for Club 55's new Club 55 Email List!
Locations:
Club 55 Keswick
- 130 Gwendolyn Blvd., Keswick, ON  L4P 3W8  Phone: 905-476-9972 - We are open! See our Fall
 Club 55 Brochure Fall 2022
 for program details. 
Club 55 Sutton
- The Link, 20849 Dalton Rd., Sutton, ON  L0E 1R0  Phone: 905-722-9508 - We are open! See our
Club 55 Brochure Fall 2022
for program offerings in Sutton! 
Club 55 Pefferlaw
- Pefferlaw Lion's Community Centre, 38 Pete's Lane, Pefferlaw, ON  L0E 1N0  Phone: 905-476-9972 - We are open! See our
Club 55 Brochure Fall 2022
 for programs!
Membership:
You must be a Member to register for Club 55 Programs. Membership to Club 55 is easy and affordable. 
An annual membership for residents is $20+HST (*$22.60) and runs from Jan. 1 to Dec. 31 of that year. (Includes access to programs at all three locations)
An annual membership purchased after July 1 is reduced to $10+ HST (*$11.30) for the remainder of the year. 
Club 55 Sutton Seniors only membership is $10 (no HST) (Access only to Club 55 Sutton programs)
Try before your buy your Membership with a Trial Membership. Try up to three drop-in programs before purchasing a Membership.
For more information, or to request a meet-and-greet opportunity at Club 55 Keswick, call 905-476-9972 or email the Older Adult Recreation Programmer, Katherine Squires at ksquires@georgina.ca. 
Other recreation opportunities for older adults (outside of Club 55):
Outside of Club 55, Georgina also offers a number of other recreation opportunities for the 55+ age group. Check out the Registration page and the Club 55 Brochure Fall 2022 for details. 
2022 Georgina Senior Games:
The Georgina Senior Games have been taking place for more than 25 years. The games are an annual competition for Georgina residents 55 years of age and older. Participants compete in a variety of recreational activities, such as archery, lawn bowling, pickleball, bridge, cribbage, floor shuffleboard and more. See the event page for full details.