Older adult recreation programs and Club 55 membership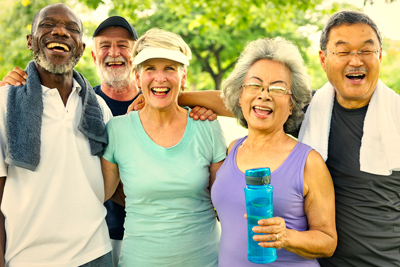 Club 55 is the Town of Georgina's older adult focused active programming centre. You can find current program opportunities for older adults on the Registration page.
Club 55 Keswick is now open. Registration is currently open for some programs.
Registration can be completed online or by calling 905-476-4301 Monday to Friday, 8:30am-4:30pm, or by calling Club 55 Keswick directly at 905-476-9972.
Pre-registration is required for most Club 55 programs. Call Club 55 Keswick for details at 905-476-9972.
COVID-19 protocols
COVID-19 safety measures will be in place and will be updated under provincial public healthy guidelines.
As of Sept. 22, 2021, the Town of Georgina requires proof of vaccination for people to access indoor services and programs/lessons taking place in community centres, arenas, pools and entertainment/cultural venues. Limited exemptions will be made as allowed by the Government of Ontario's regulations.
To enter a facility, the following will be required:
Ontario Ministry of Health COVID-19 vaccination certificate or other government issued vaccination record.
Acceptable identification which includes name and birthdate - photo ID is not required. (Examples include birth certificate, citizenship card, driver's licence or other government-issued ID).
Please be patient and respectful with Town staff as they implement these provincial protocols.
As we continue to move forward into the winter 2022 season, more program options will become available for Club 55 members at all three locations throughout Georgina.
Locations:
Club 55 Keswick 130 Gwendolyn Blvd., Keswick, ON L4P 3W8 Phone: 905-476-9972 - Open with limited programming. Call for details.
Club 55 Sutton - 1 Market St., Sutton, ON L0E 1R0 Phone: 905-722-9508 - Closed (Exercise Club running Tuesdays and Fridays, 10am-11am at Sutton Arena)
Club 55 Pefferlaw - Pefferlaw Lion's Community Centre, 38 Pete's Lane, Pefferlaw, ON L0E 1N0 Phone: 905-476-9972 - Closed
Membership:
You must be a Member to register for Club 55 Programs. Membership to Club 55 is easy and affordable.
An annual membership for residents is $20+HST (*$22.60) and runs from Jan. 1 to Dec. 31 of that year.
An annual membership purchased after July 1 is reduced to $10+ HST (*$11.30) for the remainder of the year.
Sutton Seniors only memberships (membership only to Club 55 Sutton) is $10 (no HST)
For more information, or to request a meet-and-greet opportunity at Club 55 Keswick, call 905-476-9972 or email the Seniors Recreation Programmer, Katherine Squires at ksquires@georgina.ca.
Club 55 Keswick Annual General Meeting Notice
Club 55 Keswick is hosting their Annual General Meeting on Wednesday, December 8, 2021 at 2pm at Club 55 Keswick. Register to attend online or by calling Club 55 Keswick directly at 905-476-9972. Nomination forms are available by request through the Club 55 Keswick office - 905-476-9972.
Recreation opportunities for older adults outside of Club 55
Outside of Club 55, Georgina also offers a number of other recreation opportunities for the 55+ age group. Check out the Registration page for details.