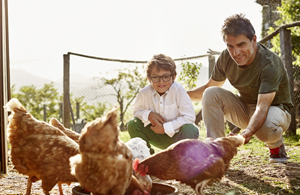 There is a growing interest for access to fresh, healthy, organic and sustainable food. This has led to the popularity of "urban agriculture", which is the practice of cultivating, processing and distributing food in or around urban areas. It can involve keeping hens in residential areas - urban hens - as a means of easy access to fresh eggs which has been taking place in a variety of urban settings in communities throughout Canada.
Next steps
Following the results of the consultation program, Council received a
staff report and approved the recommendation to approve a by-law to enact a 24-month pilot project that will see a call out for applications to a maximum of three per ward, a 100-metre separation distance between homes and that all participants be required to attend a mandatory educational session. Council also approved a recommendation to amend the Exotic Animal By-law to recognize the implementation of a pilot project. More information regarding the pilot project will be available early 2020.
Background
On Aug. 14, 2019, Council received a
staff report regarding the regulation of hens in residential areas and directed staff to a conduct a public consultation program to better understand the issues and attitudes of residents about allowing urban hens.
In 2016, Council received a deputation from a resident encouraging the Town to regulate hens in residential areas.
Current Status of Zoning By-law and Animal Control Licensing By-law
Section 5.24 of the Zoning By-law only allows hens on 'Rural' (RU) zoned properties with a minimum lot area of 0.4 hectares (1.0 acre). This severely restricts the potential to keep hens in urban/settlement areas.
Animal Licensing By-law 2003-0072 specifies that no person, other than a veterinarian is permitted to keep poultry, except on a 'Rural' (RU) zoned property.
Public Information Session
A Public Information Session was held on Oct. 10, 2019, at the ROC Chalet and
background display boards were presented.
Council reports
Nov. 27, 2019 - Urban hens

Aug. 14, 2019 - Urban hens
Additional resources
Ontario Ministry of Agriculture, Food and Rural Affairs (OMAFRA) Information
Comments and questions can be sent to Shayne Connors, Planner I, at sconnors@georgina.ca or by calling 905-476-4305, ext. 2442.