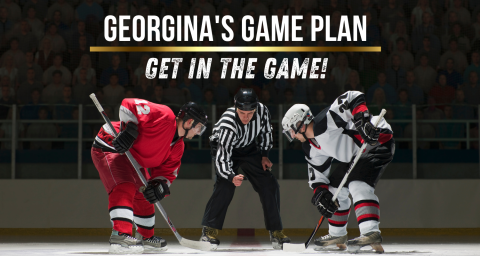 Get in the game with Georgina's Game Plan 2023 – 2027.
Thank you for getting in the game Georgina. We appreciate you sharing your ideas for the future.
The Town is launching Georgina's Game Plan, as we look to create a Strategic Plan that will refresh the Town's priorities for the next four years.
There are many things that set Georgina apart from other communities including our rich cultural heritage, access to Lake Simcoe, proximity to the GTA and our balance of rural and urban lifestyle. Let's build on these strengths as we plan for the future.
We want to work with you to shape Georgina's future and the game plan that will chart our journey. The plan will be a culmination of ideas, different perspectives and strategic thinking. It will embrace opportunities, identify challenges and leverage our assets to help us grow and sustain the Town for years to come.
Over the coming months residents, businesses, Council and other local stakeholders are encouraged to provide their ideas and suggestions on Georgina's Game Plan through a series of engagement activities. We need your voice to help shape our future. 
Please refer to this webpage for the latest updates and ways you can get involved. 
Get in the game Georgina! Share your ideas and perspectives for the Town's next Strategic Plan - Media Release - Dec. 2, 2022