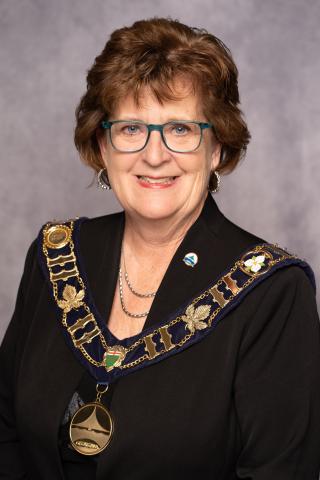 Mayor Margaret Quirk is on her third term as Mayor, after first having been elected to Town Council in 1994 as the Councillor for Ward 1 in the Keswick area, under her former last name "Jordan."  She was successful in five consecutive elections and held that position until 2010, when she chose not to seek re-election. In 2014, she returned to local government, where she ran and was elected as Mayor and then re-elected as Mayor in October 2018 and 2022.
During her tenure on Council, Margaret has served on numerous Town committees, with the most recent being the Economic Development Committee, Keswick Secondary Plan Committee and the Equity and Diversity Committee. She is also once again serving on the Lake Simcoe Region Conservation Authority, where she once served as Chair. Through her position on Regional Council, Margaret has been a Director on Housing York and Chair of York Telecom Network (YTN) and Vice Chair of the Environmental Services Committee. 
Margaret has lived in Georgina since 1985 and is married with two stepchildren and two grandchildren. She and her husband reside in the Sutton area and in her leisure time she an avid gardener.
Let's connect!
Stay up to date on community information and Town programs and services by subscribing to my newsletter. Send an email to mquirk@georgina.ca and I will add you to the distribution list. 
You can also follow me on Facebook, Twitter or Instagram.
Phone number: 
905-476-4301
Fax: 
905-476-1475
Email: 
Notes: 
Home Telephone: 905-722-4250
Messages may also be left with Alex Demoe, Executive Assistant to Mayor and Council or by telephone 905-476-4301, ext. 2261