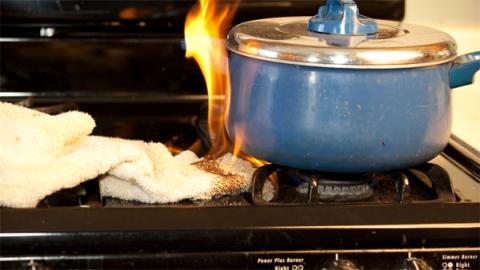 Cooking is the number one cause of home fires in Ontario. Many of these fires start because pots and pans are left unattended on the stove. Here are some kitchen safety tips:
Stand by your pan
Stay in the kitchen when you're cooking. If you must leave the kitchen when you're cooking, turn off the stove and remove the pot from the burner especially if you are using oil or high temperatures.
Put a lid on It
Keep a proper-fitting pot lid near the stove when cooking if a pot catches fire, it is important not to panic. Put an oven mitt on, slide the lid over the pot and turn off the stove. Don't peak. Do not attempt to move a burning pot.
Don't reach for danger
People have burned to death because they have reached across the stove while wearing loose clothing. Even more tragic is that these incidents usually happen to older adults. If you're going to cook, wear a short-sleeve shirt or roll up your sleeves.
Clear the clutter
Keep the cooking area clear of paper towel, wooden utensils and tea towels to prevent any possibility of fire spread.
Check out Cooking Safety Tips by the National Fire Protection Association (NFPA) and the  Ontario Fire Marshal for more safe cooking tips.