2022 Budget
Each year, the Town of Georgina passes a budget to determine how funds will be spent.
Council discusses the draft budget and listens to resident input during a series of meetings.
The 2022 draft budget will be released on Oct. 27, 2021.
Council consideration and discussion will take place on Nov. 30 and Dec. 1, 2021.
Media release - Get involved in Georgina's 2022 Budget process - Aug. 30, 2021
2022 Budget survey
Tell us how your tax dollars should be invested by completing our online survey and be entered to win one of two $100 Visa gift cards. The survey opens on Sept. 7.
2021 Budget
Media release - Georgina Council approves 2021 budget - Dec.2, 2020
Media release - Have your say on Georgina's 2021 Budget - Sept. 1, 2020
2021 Draft operating and capital budget and 10-year capital forecast - Oct. 21, 2020
2021 Draft Budget Release Presentation - Oct 22, 2020
By-laws
By-law 2020-0083 Budget Adoption 2021 (111.26 KB)
By-law 2020-0084 Sewer Service Rate 2021 (100.07 KB)
By-law 2020-0085 Water Service Rate 2021 (105.73 KB)
Financial policies, plans and studies
2016 Long Range Financial Plan (808.79 KB)
Capital Carry Forward Policy
Corporate Debt Management Policy
Investment Policy
Reserve Fund Policy Consolidation
Surplus Deficit Policy
Water Financial Plan (759.1 KB)
Previous Municipal Budgets
Federal Tax Funding
FAQs
What makes up the budget?
A municipality's budget is made up of two parts:
Operating – spent on running Town facilities, programs and services
Capital – spent on building and repairing Town infrastructure, including roads, pipes and buildings
To fund the operating and capital budgets in Georgina, annual revenues are generated. The main sources of revenue are property taxes, user fees and development charges.
Property taxes
Your property tax bill is divided between the Town of Georgina, York Region and the Province of Ontario for education. Georgina uses its portion of your taxes to pay for Town programs and services.
User fees and service charges
These are paid by residents and businesses when accessing certain services, such as recreation programs and permits.
Development charges
These are paid by developers and are used to help fund capital projects such as roads, pipes and recreation centres.
What do my taxes pay for?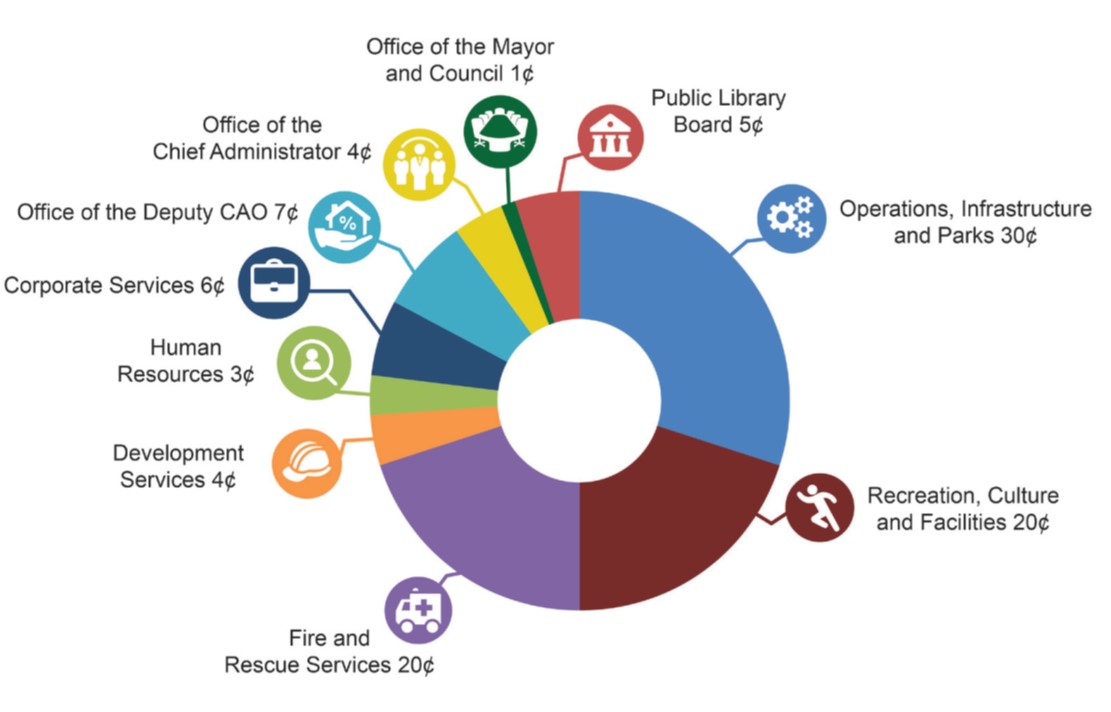 Your property taxes are used to fund programs and services at the Town, regional and provincial level.
Town Services:
Animal services 
Fire and rescue services
Georgina Public Library
Licences and permits
Infrastructure replacement
Maintenance of Town facilities
Municipal law enforcement and by-laws
Office support and administration
Parks, sports field and beaches maintenance
Recreation and culture services
Roads services
Snow removal on local roads and sidewalks
Town planning and development
Waste collection
Regional Services:
Maintenance of main/major roads, sewers and bridges
Public health services
Regional planning and growth management
Regional waste disposal
Snow removal on regional roads
Social assistance
Social housing
Traffic planning on regional roads
York Regional Police         
York Region Transit and Viva services
Province of Ontario: